Left to Your Own Devices
Self-service beauty gadgets bring doctors' high-tech weapons home.
---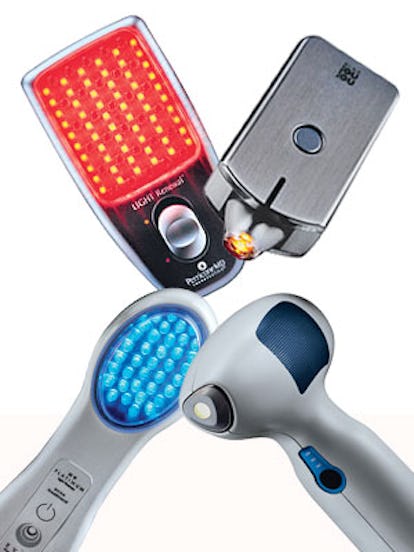 Until very recently, a typical evening of at-home beauty maintenance involved nothing more complicated than a bottle of nail polish, a jar of face mask and last week's episode of Gossip Girl on TiVo. Relaxing? Maybe. Life-changing? Definitely not. But a new wave of high-tech, do-it-yourself beautifying devices is aiming to change that. According to the makers of these gadgets—which enable consumers to treat their skin woes with microcurrents, light-emitting diodes (LEDs) and even lasers—a trip to the medi-spa is so 2007. Allison Slater, vice president of retail marketing at Sephora, reports that by year's end, the chain will nearly double its stock of such products, and she predicts that "women will start replacing visits to the doctor's office and facials with at-home devices."
Many of these handheld mini machines employ LEDs, tiny bulbs that operate at specific wavelengths to treat complexion concerns. When directed at the skin, blue light blasts acne-causing bacteria while red light targets wrinkles by stimulating collagen. Dermatologist Nicholas Perricone is one of the first to brand an LED unit with his name—the $335 PerriconeMD Cosmeceuticals Light Renewal launched in June—and he's currently developing another device that employs muscle-stimulating technology to firm skin. "I really do think the future is light and electricity," he says.
Corporate giants are also getting in on the act: L'Oréal, Procter & Gamble and Johnson & Johnson are looking into the at-home market. Ellen Marmur, chief of dermatologic and cosmetic surgery at Mount Sinai hospital in New York, believes that these devices are most effective as complements to professional treatments like those she offers in her practice. "If you want maintenance, or a modest improvement, hopefully [an at-home LED] will do it," she says. "But people shouldn't expect miracles." New York dermatologist Neil Sadick, who has conducted clinical trials for at-home devices, is more optimistic, asserting that results from antiaging gadgets can "approach" those from in-office treatments. Still, he predicts that the biggest successes in the DIY category will be products that target unwanted hair and acne.
At-home hair-removal gizmos have certainly come a long way since the painful-to-employ Epilady. The first of the new generation, a $250 unit called the No!No!, hit U.S. shores in September, having already achieved best-seller status in Europe and South America. No!No! uses a thermodynamic wire to painlessly heat and kill hair follicles, resulting in permanent hair reduction. Even newer hair-removal units, such as the just-launched Tria ($995 at Bergdorf Goodman) and Silk'n ($800 at doctors' offices), attack follicles with the same technology employed by dermatologists: lasers and pulsed light.
Zit zappers, meanwhile, deliver a concentrated blast of heat to a pimple, eradicating bacteria. Popular models include the $189 Zeno Pro and the $150 ThermaClear. Radiancy, the maker of No!No!, is also planning a U.S. debut for its acne eradicator, the No!No! Skin. "[Overseas] consumers carry it in their purse for pimples that are just starting to come out," says Dolev Rafaeli, Radiancy's president and CEO.
It sounds simple enough, but, as is the case with any DIY project, at-home skincare can require serious commitment. The maker of the Tända Professional Skincare System, for example, recommends using its red-light LED product for 18 minutes a day for 30 days, then two to three times a week after that. "It's a lifestyle," says Maha Sherif, president and CEO of Ageless Beauty Corporation, maker of the new Evis MD Platinum LED. "It's just like exercise: You can't do it two or three times a year and expect to be fit."