W Movie Club: In the Mood for Middle Earth
Digital designer Tilden Bissell lists her favorites—a colorful mix of fantasy films that evoke other worlds.
---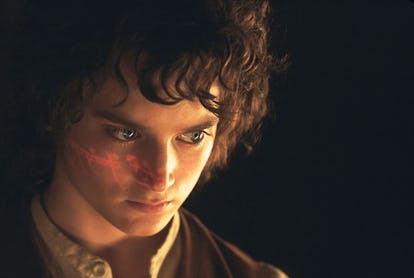 Welcome to the W Movie Club, a new series in which W magazine's editors pick five films they'd recommend you watch while in quarantine. This week, digital designer Tilden Bissell lists her go-to's—a colorful mix of fantasy films that evoke other worlds.
Lately, my criteria for good quarantine fare has called for something a little stranger: warriors and forest gods, an alien missing his home, hobbits in Middle Earth, a "bio-exorcist," plus one really great love story for good measure. As long as it doesn't remind me of my apartment, I'm in. Most of these films definitely prioritize style but still hold plenty of substance when you look a little deeper. Frodo and Sam, Su and Chow, the Maitlands and Lydia, each film reflects the bonds we make outside of family—or in Princess Mononoke and The Man Who Fell to Earth's case, species. But they're also just five visually striking films that will make you feel like you're anywhere but here.
Beetlejuice
If you distill Beetlejuice to its most basic plot, it's about struggling to cohabitate with obnoxious roommates when you can't leave your house—which, hey, relatable. Alec Baldwin and Geena Davis play members of the recently deceased Maitland family who enlist the help of a rogue poltergeist (played by a delightfully unhinged Michael Keaton) to force the Deetz family, the house's new inhabitants, from their former home. The set and makeup design is excellent, with the latter winning an Academy Award, not to mention the countless goth mood boards inspired by Winona Ryder's turn as Lydia Deetz. People tend to give Lydia all of the sartorial credit for this film, but it's Catherine O'Hara's Delia Deetz, a flawless caricature of a yuppie New Yorker, who walked so that future fashionistas like Moira Rose could run.
Princess Mononoke
Spirited Away may have propelled Studio Ghibli to international acclaim, but Princess Mononoke is the best example of the complexity of Hayao Miyazaki's world-building. Princess Mononoke follows a young warrior who is banished from his village after falling victim to a curse; while trying to break it, he wanders headfirst into a conflict between the humans in a local village, Irontown, and the animal spirits of the surrounding forest. Like many Miyazaki movies, the film has a strong environmentalist bent, but it doesn't pass judgement on any characters as "good" or "bad" in the way you might typically expect from a children's film. The English-dub voice cast is a who's-who of late '90s heartthrobs: Billy Crudup and Claire Danes voice star-crossed lovers Ashitaka and San, but it's the lush, detailed animation that keeps me coming back for more.
The Man Who Fell to Earth
What The Man Who Fell to Earth lacks in a coherent plot, it makes up for in trippy visuals. Infamously strung out throughout the entire production, David Bowie is perfectly cast in his dramatic debut as an alien sent to find water for his dying planet, only to be sidelined by the vices here on Earth. The visuals are a breath of fresh air compared to neo-noir and retrofuturist films like Blade Runner and Akira—also great sci-fi movies in their own right—from the '80s, showing that in this genre, sometimes less can be more. The Man Who Fell to Earth is definitely a sci-fi movie, but it's an arthouse sci-fi movie.
In the Mood for Love
The only movie that's not a genre film on this list, In the Mood For Love, is one of the top choices for W readers for a reason: Maggie Cheung and Tony Leung electrify in Wong Kar-Wai's quiet tale of unrealized love. Set against the backdrop of 1960s Hong Kong, In the Mood For Love follows a man and a woman who bond over their spouses' infidelity, only to be tempted by a similar trap themselves. Every frame is intimate, bordering on voyeuristic, not to mention Wong Kar-Wai's unparalleled use of color to tell a story. If your heart doesn't break even a little bit when you watch the last scene, I don't know what to tell you—nothing can stoke those dying embers.
Lord of the Rings: The Fellowship of the Ring
Sorry, Marvel, but Peter Jackson's fantasy epic is the blueprint for the perfect blockbuster quarantine movie. It offers fantastic cinematography, makeup, score, and visual effects (for which it won four respective Oscars,) in addition to plenty of action and iconic one-liners. However, so much of the film's power lies in its spot-on casting. There's been some debate recently over who the hottest character in the trilogy is, but I think we can all agree Samwise Gamgee takes the prize of best friend in Middle Earth for putting up with so much of Frodo's bullshit. Cate Blanchett, who is basically an ethereal being in real life, is literally luminous as Galadriel, plus there's wide-eyed newcomer Orlando Bloom running around in a long blonde wig for some added levity. If you watch all three extended cuts back to back—or even spread out over the course of a few nights, as I did—that's more than 10 hours of cinematic gold.
Related: W Movie Club: The Nostalgia Trap