Behind the Scenes of Pedro Almodóvar's New Film, Julieta
The Oscar-winning director and his latest leading woman Adriana Ugarte reveal the story behind his 17th film.
---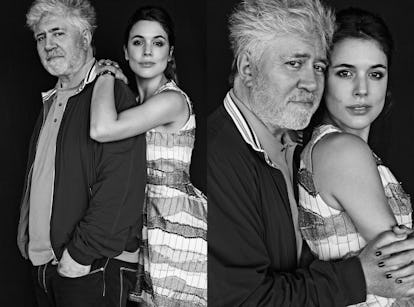 A year ago, when the Spanish actress Adriana Ugarte first auditioned for a role in Pedro Almodóvar's film, Julieta, (out today) she had no idea he was the director. "The casting director sent me a few pages from the screen play and said I had to prepare it perfectly because it was for one of the biggest directors in Spain, but wouldn't tell me his identity," Ugarte explained of landing the the role of the film's protagonist. "When I finished the second audition, they told me it was Almodóvar. I thought it was a joke—I never thought he would be interested in me, that I could ever be one of Pedro's girls," she said.
She was wrong, and landed the part of the titular heroine, Julieta.
"I was condemned to work with her—I'm not sure if that works in English, but in Spanish it's a nice saying," laughs Almodóvar, who gravitated towards Ugarte, 31, for her myriad qualities. "She takes risks without thinking about it," he said of his star. "And also has that youth, joy, and extreme dedication that I needed for the character."
The film is based on a short story by the Canadian writer Alice Munro, and set between two time periods of Julieta's life: the first when she is a young woman living with her lover in a small Spanish town in the '80s, and the second in the present day, as a 50-year-old whose daughter unexpectedly goes missing.
With 16 feature films under his belt, Almodóvar's decision to make this story was due in part to one passionate scene on a train where Julieta first lays eyes on Xoan (Daniel Groa), her future husband. "The '80s in Spain was an explosion of freedom in every sense," he explained.
The Oscar-winning director still hasn't mellowed with age; he readily admitted he can still be a challenge to work with. "I'm a very obsessive director and I can be a nightmare for an actress. But not for Adriana. She is a soldier," he said. "Even 'Hello, how are you doing' can be said in 20 different ways, and I try them all to be sure I have the right one."