A Little Help From My Friends
Behnaz Sarafpour enlists experts to create her wedding ensemble.
---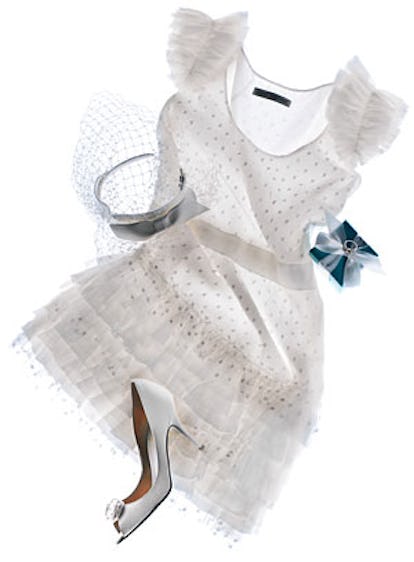 An off-the-rack gown is pretty much out of the question for a bride-to-be who happens to be a designer. But Behnaz Sarafpour went above and beyond just designing a dress for her nuptials last summer. She came up with her entire look, from head to toe, with some high-fashion help from Tiffany & Co., Stephen Jones, Lemarié and Christian Louboutin—names that wouldn't be out of place on any bride's wish list. "I thought it was exciting to work with other designers I admire but might not otherwise get a chance to collaborate with," says Sarafpour, who married Evan Shumeyko, a management consultant at Leveraged Technology, on July 28 in Bermuda. "It's fun. Then you've got others' creative input too."
Clockwise from right: The wedding party, from left: Shumeyko, groomsman Peter Cipriani, bridesmaid Starret Zenko, Sarafpour and best man Lance Le Pere
Indeed, tony teamwork was Sarafpour's idea from the beginning. Whereas most engagements start with a ring, hers began with a loose diamond and a trip to Tiffany. Last February Shumeyko proposed with his grandmother's diamond, a brilliant round-cut solitaire from the Twenties, knowing his bride would want to do something special with it. The one-carat gem wasn't the only thing with history. Three years ago, Tiffany sponsored Sarafpour's spring show, which she staged at the jeweler's Fifth Avenue flagship; since then the company has provided jewelry for celebrities she's dressed. "I knew they'd make something really personal for me," she notes. "I wanted something with a little Art Deco feeling to it, and I knew that would be good with the history of Tiffany. They were really great about taking this old diamond and designing something around it." The couple came up with the idea of working an S, the initial of both their last names, into the design. All parties thought the shape of the letter worked best with two stones. Thus Tiffany matched the antique gem with a new one, similar in weight, cut and clarity, and presented three double-stone sketches inspired by current Tiffany styles: the Legacy and Jean Schlumberger's Bud and Ribbons rings. Ultimately, Sarafpour and Shumeyko chose a combination of all three, which features the two diamonds bezel-set side by side, the antique set in gold, the new one in platinum, traced in pavé diamonds in the shape of an S. "We wanted the S to be obvious," says Sarafpour. "And timeless," adds Shumeyko.
Things were less sentimental, though no less stylized, when it came to the hat and shoes. Princess Deena Abdulaziz (her husband is a nephew of King Abdullah of Saudi Arabia), a bridesmaid who is a personal friend of Louboutin's, hooked the bride up with custom stilettos in honor of the "something blue" tradition. The result: ivory satin peep-toe pumps with ribbon rosettes and robin's egg blue soles, a special-order touch previously offered to brides.
The bride and groom say "I do"
No such connections played into having Jones make her hat. "I literally called him up and asked him if he would do it," recalls Sarafpour, who had never worked with or met the milliner before. "I had always seen hats he had done for couture and really loved them, but I've never had an opportunity or reason to use those kind of hats, so this seemed like the perfect time." Jones didn't disappoint. His creation reflected Sarafpour's Bermuda-inspired nautical theme, using the signature bows that often appear in her collections, an old-fashioned, Fifties-style headband decked with lace netting that veiled her eyes, and an oversize grosgrain bow. "It was a little abstract," says Sarafpour. "It was a little Isabella Blow–ish, but very beautiful."
Only after her accessories were determined did Sarafpour start on the dress—an item that had been on her mind long before her engagement. "Just being a fashion person, I'd play this game with my best friend," she explains. "Every season he would say, 'Okay, if you were getting married this season, what would you wear?'" Her answers changed with the trends. One season it was a pantsuit, another it was a tank top and a slip—ideas as unconventional as her final decision: a minidress. "I wanted something that was a balance between glamorous and sporty," says Sarafpour. "I didn't want to have the most traditional wedding. And it was outdoors in Bermuda, so taking all those factors into consideration, I wanted something very summery and light."
Sarafpour's platinum and gold Tiffany engagement ring.
Sarafpour went straight to the top for her frills. She enlisted Lemarié, one of Chanel's stable of specialty ateliers that works with couture ruffles, feathers and lace, to embellish her ivory dress. After sifting through piles of plumes and various lace and ruffle combinations, she decided on layered silk organza, crepe de chine and ruffled lace to trim the shoulders and skirt. The pieces were handmade in France and shipped back to Sarafpour for final construction—after a last-minute change. "Originally I chose this very Art Deco 1920s lace," she explains. "At the end I decided that I preferred something with a cleaner look, so we took the Deco lace and ripped it out of all the ruffles and replaced it with point d'esprit." She put the finishing touches on the dress several days before the wedding.
It all came together in the end, but the collaborations weren't always smooth sailing. When Tiffany tried to lure Sarafpour to a surprise presentation of the finished ring the day of the Costume Institute gala at the Metropolitan Museum of Art, she opted out. "I'm not really a big fan of surprises," she says. "It's best just to tell me what's going on. They said, 'Can you come up to Tiffany?' and I said, 'I'm sorry. I'm really busy today.'" She picked up the ring later that week. The timing was also off when it came to her hat. Sarafpour made a special trip to London to meet with Jones, who ended up leaving the city unexpectedly to attend the funeral of Galliano and Dior studio head Steven Robinson in Paris.
And when Lemarié's representative came to New York in May to present Sarafpour with samples, everything, save for a few feather and lace swatches, was lost in transit. The designer remained unruffled and calmly made her trim selections from photocopies. "The good thing about working with people that you know are good is you have some level of confidence that they'll do something that's well executed," she explains of her easy-breezy attitude. "And part of being a designer is being able to envision something that doesn't exist yet."
In fact, for all the leaps of faith that came with working long distance with others, looking back, Sarafpour wouldn't change a thing. That said, she admits to at least one nervous moment. After wearing flat sandals through all her dress fittings, the final look was leggier than she expected. "As a designer, I should know your skirt looks shorter the higher the heel," she says. "Suddenly, I put the heels on and I was like, 'Oh my God, my dress is obscene.'"
Wedding photos: Todd Macintire