Bel Powley Would Cast Jacob Tremblay to Play Her
The Diary of a Teenage Girl actress, and star of the new film Carrie Pilby, shares her culture diet and casting advice.
---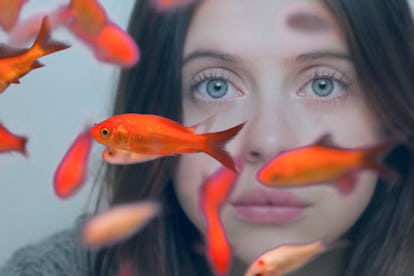 "I was really geeky at school," recalled Bel Powley recently. "I didn't have a lot of friends, and I was always top of the class." In some ways, then, the British actress bears a strong resemblance to her character in the new film Carrie Pilby, in theaters Friday. The story follows Carrie, a child prodigy who received a bachelors from Harvard at 19, as she navigates life as an unusually young adult living in New York. "She's hyper intelligent but quite socially inept, which is part of the reason why she struggles so much," explained the 25-year-old actress, who is best known for her startling breakthrough in 2015's The Diary of a Teenage Girl. Powley let us in on what TV shows are keeping her up at night on her press tour, and why she's still scared of the dark.
First thing you read in the morning:
I try not to look at Instagram first thing in the morning. I actually try not to look at my phone for 30 minutes after I wake up. And then I read my emails, I read The Guardian.
Books on your bedside table right now:
Taming the Mind by Ruby Wax, and The Sell Out by Paul Beatty. I actually made a short film last year about mental health, so my friend got Taming the Mind for me as a gift in that theme. Ruby Wax is a comedian who had a mental breakdown and decided that her way of dealing with it would be to understand the inner workings of her mind. So she went back to Oxford and studied neuroplasticity to work out how we can change the neural pathways of our mind to make us happier, and she wrote a book about it. it's about the science of mindfulness.
The TV shows keeping you up at night:
Love on Netflix and Broadchurch on BBC. It's like the classic whounit.
Last movie you saw in theaters:
I saw Get Out last week. It was brilliant, very smart. You could feel every single twist and turn. It was a specific thought-out choice; it also had a serious undertone to it, which I liked.
The last museum exhibition that you loved:
The Tate Modern in London just put on this really weird exhibition. Basically, Elton John has this really extensive collection of photographs from the 1930s to '50s, lots of Man Ray photos, and they took all the photos out of his house and put them in this exhibition at the Tate. There are over 500. I kept thinking about his empty house, though.
Last piece of art you bought, or ogled:
I bought a Jeff Koons print for someone for Christmas. It was a print of his balloon puppy.
The last concert you went to:
I went to see Patti Smith play two weeks ago in Cleveland. She performed all of Horses, it was amazing. She played for like an hour longer than she needed to. At the end she was grabbing the guitar and breaking the strings and smashing it up on the stage and screaming about how much she hates Donald Trump. She's a heroine.
Last song you had on repeat:
You know what I've been listening to nonstop—damn it, it's like, [in singsong] ba-da-da-da-da-da-da… the soundtrack from Badlands! I'm working on a movie at the moment and it's pretty stressful and I find that music calms me down.
The musician you would want to score your life:
Maybe Stevie Wonder, get a little bit of soul in there.
How do you get your news:
I read The Guardian exclusively.
Favorite social media accounts to follow:
I don't know, I don't have Twitter. I had it but I wasn't using it that much, it was too much of an overload of information. Sometimes I go on Instagram bans. I try not to look at it too much. I follow a lot of fashion accounts, like Vogue UK and Man Repeller. [Leandra Medine] is hilarious, and I love reading her blog.
Last thing you do before you go to bed:
I actually fall asleep really easily. I'm a bit of a scaredy-cat though, I have to make sure that all the doors are closed, the front door is locked three times, and then make sure everything is covered and look under the bed. I live with my best friend but she's always at her boyfriend's house. I also spend a lot of time on my own because I'm traveling for work. I always lock hotel rooms. Oh my god, the scariest thing happened the other day. I am shooting a movie in Cleveland right now, and I was at that moment just before you fall asleep and I get a knock on my door, like loud bangs. It was someone knocking on the wrong room, but it really freaked me out! I don't do well with that.
The actor who would play you in a movie about your life:
That's such a good question… Jacob Tremblay. I feel like sometimes I look like a little boy.
Bel Powley reveals her favorite love scenes of all time: