Alice Eve on Belgravia, and How Julian Fellowes Writes for Nuanced Women
The British actress talks comparisons between Downton and Belgravia servants, and her character Susan Trenchard's big turnaround.
---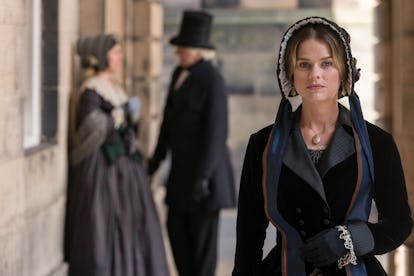 Image courtesy of Carnival Films.
The actress Alice Eve first received word that the producers of Belgravia were interested in casting her for the television adaptation of Julian Fellowes's novel via a letter.
In the new Epix series, which premieres this Sunday, she plays Susan Trenchard—the fiery and snippy daughter-in-law of the two main characters, Anne and James Trenchard, who lived in the ritzy English neighborhood of Belgravia between 1815 and 1840. The period drama centers around the aristocratic, social-climbing clan, and a family secret that could lead to their ultimate demise.
The letter sent to 38-year-old Eve detailed her would-be character—all of her unsavory characteristics as a somewhat spoiled daughter of a successful merchant, who married Oliver Trenchard, leaving his father James somewhat disappointed that his son didn't find someone with more enticing connections to be his wife. Susan was described as self-interested and cunning, but the producers insisted she contained more layers than that.
"Bear with the first two episodes," the note to the British actress read. "She really comes through in the second half."
"I was like, what an amazing role, and said straight away that I'd love to join," Eve said over the phone from her home in London, where she is currently social distancing with her family.
Before the coronavirus fallout occurred, Eve, who has appeared in Bombshell and Star Trek: Into the Darkness, was on location in England filming Belgravia. There, she met with Fellowes to discuss the role of Susan Trenchard. (Belgravia is Fellowes's first plunge back into television period pieces since the beloved PBS drama Downton Abbey, which aired its final episode in 2015.)
Their meeting on set was the first and only time they would sit together one-on-one, but Eve described it as an integral conversation for her experience playing Susan.
"The insight he gave me was profound and I cherished it," Eve said. "He was talking about how at the time, women with ambition and intelligence only had one avenue to pursue and that was society, and there was no other place for their brains. That's what Susan was pursuing. He credited her pursuit and her ambition, rather than discrediting it. So the fact that he supported and empathized with her need to be integrated into this world liberated me."
Eve has described Fellowes in the past as a feminist, and sees his ability to write nuanced female characters as a well-honed skill. Lady Sybil Branson of Downton Abbey was a generously portrayed free thinker for her time; Belgravia's Anne Trenchard, in a position many women can relate to, carries the family as a matriarch and simultaneously bears the weight of their secrets. Fellowes, therefore, was able to look at a character like Susan—who, initially, wasn't everybody's favorite—and empathize with her.
"I think he must have an intelligent, dynamic wife, and they must have conversations that give him insight. He credits a lot to his wife, and usually insight comes from experience, unless you're some kind of Mozart," she said. "I know that when I was cast in Star Trek, it was J.J. Abrams's wife who was like, 'Why don't you meet her?' after seeing me in Entourage. I think that sometimes these guys do work in teams. But I don't know the answer for Julian personally, I haven't asked him. I've certainly read about him talking of his wife in high esteem. But also, maybe he has a particular eye for it."
Eve wasn't part of the masses who gravitated toward Downton Abbey when it first came to prominence in 2011. In fact, the actress watched the series only after finishing the book Belgravia.
"I was surprised at how gentle Downton was," Eve said. "And how morderate in comparison to the zig-zaggy nature of Belgravia, and all the dark motivations of the characters and circumstances. I think that maybe has more to do with the nature of the time. The 1840s was a rough ride, and 1910s was not such a rough ride until the war. It's similar to how the '90s were super chill, when we watched Friends, and then the '00s came around and we started watching Breaking Bad and The Wire."
The comparisons between Downton and Belgravia were inevitable—and came swiftly, after the show's premiere in the U.K. All parties involved with the latter project have maintained that the two stories couldn't be more different, but fans of Fellowes are splitting hairs nonetheless. Some viewers took to Twitter to air out their displeasure with the servants on Belgravia. They say they lack loyalty—stacking them up against the Downton domestics—and aren't impressed.
"I definitely know that the servants in Downton, there was money belonging to a certain class of person and they then employed the village around them, and brought them in and everyone was happy with that arrangement," Eve explained. "Whereas in Belgravia, in the 1840s, there were many houses in a small area with many servants that were then able to have competition with other houses, to have more money like the other servants or to have a better master like the other house, or someone that had more class or less class, so the servants had a level of competition with their peers and there were more of them that they just didn't have in Downton in a single home. I think it depends what you're depicting. We were just a group of people in the center of London at a time when ambition was raging. So there's more room for them to have personality. I think it's utopian to think in a London city, that the servants would be loyal."
Eve doesn't share much in common with her character Susan other than ambition—the actress is intellectually curious, eager to explore any and all things "as much as they can inform me about the world we live in," she said. As a result, Eve is meditating three times a day in quarantine, and taking a course online about China's first empires and the rise of Buddhism. But Eve admires Susan, nonetheless, and has patience and a sort of reverence for her—even if it takes some time to truly get to know her go-getter nature.
"It's almost like an underdog presentation," Eve said. "She's a human being and she's dealing with her circumstance. She's kind of unsavory at first and then she comes around, then you can root for her. But it's so juicy to see something that's upside-down like that."
Related: Storm Reid, Now 16, Has Defied the Child Star Narrative