Bella Hadid's Guide to Her Favorite Nike Sneakers
The model breaks down her favorite pairs of Nike sneakers, from the "OG" to Riccardo Tisci.
---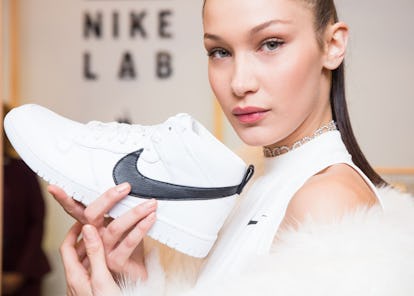 BFA
Scroll through her Instagram feed, and you'll find that Bella Hadid is a lover of many things. There's her family (duh), the beach (you can take a girl out of California, yet…), pizza (of course)the list goes on. And then there are the sneakers.
Take a look at any of her model-off-duty street style looks—also readily available on social media—and you'll find that the top model is rarely without a cool pair of kicks that would make even the most devout collector green with envy.
And not just any brand. Hadid, like many a sneakerhead before her, is a devotee of Nike, the reigning champ of athletic footwear. The fact that she is spokesperson for the brand certainly helps; most recently, the model starred alongside Riccardo Tisci in the campaign for his latest designs for the sportswear mega-brand. "It was much fun," Hadid told W about the campaign shoot early last month. "He has such crazy art direction and knows exactly what he wants, so it's funny to shoot with him when he has to be in front of the camera. He is such an incredible energy and we just laugh and talk about stupid stuff."
Here, just after the official Air Max Day on Sunday, Hadid exclusively breaks down her five favorite Nike sneakers of all time.
Cortez
"This one is about as classic as you can get. Nike's real OG and I wear it with anything—dressed up or down."
Air Force 1
"A high school obsession. My freshman year of high school, I would always wear my Air Force Ones, and that's where it started and my love of Nike grew."
LeBron Air Zoom Generation "Vachetta Tan"
"I instantly loved these retro basketball sneakers—the color, the style, the elegant leather."
Retro Jordans
"My favorite vintage sneakers!"
NikeLab Dunk Lux Chukka x RT
"I've always been so intrigued with the way Riccardo works and the way he designs. I can wear his version of the Dunk with anything."
Bella Hadid, a Bubble Bath, and Jenga: What More Could You Want?
Exclusive: Bella Hadid, Alessandra Ambrosio, and Emily Ratajkowski Take the Bahamas by Storm