GOING HOME WITH BELLA HADID
Bella Hadid, Off Duty: The Supermodel Loves to Relax by Snorkeling in the Bath Tub
Bella Hadid relaxes with rubber duckies, adult coloring books, and blowtorches.
---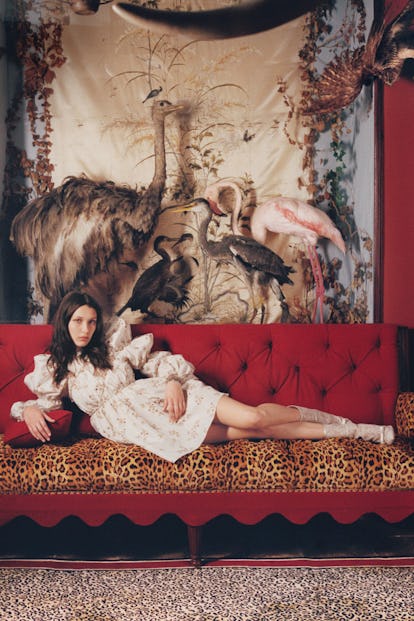 Photographs by Venetia Scott, Styled by Edward Enninful
In the past year, model Bella Hadid has asserted herself as more than just Gigi's little sister by walking the Victoria's Secret runway, leaning into to becoming a street style star, and gracing the pages of W in the season's hottest couture. Even in the face of a rising career, she still finds time for herself.
We recently followed Bella home to, well, a home, to learn more about her relaxation best practices. The following seven tips will help you battle all sorts of stresses, everything from being on set all day to the disappointment of your pizza arriving with the cheese stuck to the top of the box.
Sometimes, she likes to change hats as soon as she gets home. "I usually like to change hats sometimes. Just for fun," she says. Nothing metaphorically helps one shift moods from "international model on the rise" to "normal girl relaxing at home" like a literal change in headwear. Try it yourself. It might work, or maybe not, but who knows until you try?
Hadid has committed to playing a long term game of Jenga with herself. Every day after she comes home she takes out another oversized block out of her wooden tower. Why? She didn't say, but perhaps it's a powerful reminder that even when things come crashing down it's always possible to rebuild and start again.
The model, who just turned 20 in October, has been collecting rubber duckies since she was 19 and names each one. Her collection includes Reynaldo, the bikini-wearing Paula and "the temperamental one." It's nice to have friends who will always greet you when you get home.
Lots of people love to light a candle when they get home, but how much can a little wooden match or your gas station Bic really achieve? For maximum returns bring out the blowtorch. If your candles are scented the blowtorch will even help to bring the fragrance out sooner.
She uses her bath time as a moment to reflect on activities that bring her joy, and finds that having props around helps to jolt those peaceful memories. That's why she keeps a pink snorkeling mask in reach of her tub.
There's a lot on all of our minds these days, and sometimes the best way to deal with it is just to forget things or never even learn them in the first place? Who even needs to remember how to control the jets in their own bathtub? You'll figure it out eventually. It's fine.
Hadid loves adult coloring books, which John Hopkins University believes can be very therapeutic. And that's science.
Bella Hadid Is a Lady In Waiting in Haute Couture
Fendi Haute Fourrure coat and boots; Philip Treacy London veil.

Photographs by Venetia Scott, Styled by Edward Enninful
Giambattista Valli Haute Couture dress and boots; Buccellati bracelet. Beauty note: Dreams are within reach thanks to Essie Gel Couture nail polish in Sheer Fantasy.

Photographs by Venetia Scott, Styled by Edward Enninful
Valentino Haute Couture cape dress and bodysuit; Chopard rings.

Photographs by Venetia Scott, Styled by Edward Enninful
Photographs by Venetia Scott, Styled by Edward Enninful
Armani Privé coat; Tiffany & Co. necklace.

Photographs by Venetia Scott, Styled by Edward Enninful
Photographs by Venetia Scott, Styled by Edward Enninful
Maison Margiela Artisanal Designed by John Galliano dress.

Photographs by Venetia Scott, Styled by Edward Enninful
Photographs by Venetia Scott, Styled by Edward Enninful
Maison Francesco Scognamiglio dress.

Photographs by Venetia Scott, Styled by Edward Enninful
Atelier Versace coat and dress; De Beers necklace.

Photographs by Venetia Scott, Styled by Edward Enninful
Givenchy Haute Couture by Riccardo Tisci bodysuit; Messika Paris cuff; Roger Vivier sandals.

Hair by Odile Gilbert at Exposure NY; makeup by Stéphane Marais for Dior at L'Atelier NYC; manicure by Julia Villanova at ArtList. Model: Bella Hadid at IMG Models.

Produced by Michael Lacomblez at Louis2; lighting director: Ryan O'Toole; photographer's assistant: Josie Hall; lighting assistant: Callum Toy; fashion assistants: Ryann Foulke, Dena Giannini, Rasaan Wyzard, Suzanna Spertsyan; hair assistants: Fanny Fraslin, Sadek Lardjane; printing: Daren Catlin at Bayeux; retouching: Hempstead May.

Photographs by Venetia Scott, Styled by Edward Enninful