Bella Hadid Gets to Have Her Moment in Front of The Weeknd, Again
At the H&M show in Paris this week, Bella Hadid relived her Victoria's Secret breakup fantasy, albeit with slightly less lingerie.
---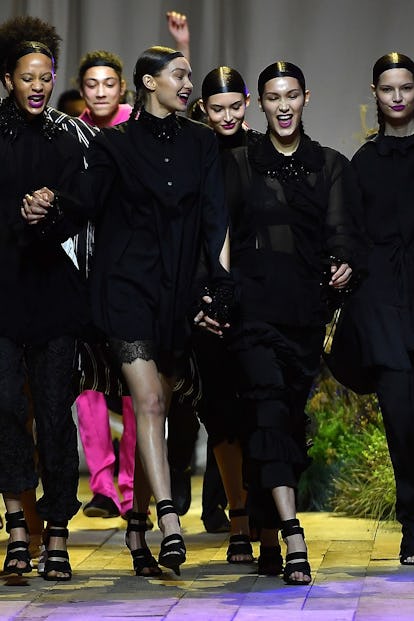 Pascal Le Segretain/Getty Images
Gardens, Grey For sale — all you need is a cool $20 million and the restored estate, which featured in a documentary and the HBO special of the same name, can be yours. Current owner Sally Quinn, the widow of Washington Post editor Ben Bradlee, discusses the house's legacy in a new interview.
Hadid, Bella Confronted with yet another Victoria's Secret moment when she walked the runway for H&M Studio at Paris Fashion Week — where ex-boyfriend The Weeknd, AKA Abel Tesfaye, also performed.
Margiela, Maison The vintage shop Byronesque will take over the last adult film theater in Paris, Le Beverley, this weekend for a pop-up sale of vintage Margiela pieces. "It's not about actual porn," said Byronesque founder Gill Linton. "This is fashion porn for people who love Margiela."
Marling, Brit In conversation with the writer Malcolm Gladwell, actress, writer, and producer Brit Marling, the brains behind the Netflix cult favorite The OA, discusses science fiction, fantasy, and reality — and what's coming next for her Original Angel.
Neel, Alice Why the late artist's paintings of her neighbors — and those outside the Bohemian art world she inhabited in the late 20th century — are more relevant now than ever, according to critic and writer Hilton Als.
Van Noten, Dries Celebrating his 100th show with a supermodel parade that included Amber Valletta and Carolyn Murphy.
See New York Fashion Week's best street style: