Bella Hadid and Hailey Bieber Embrace the M&M-Style North Face
MM6 Margiela's take on the classic fleece is more wearable than you'd expect.
---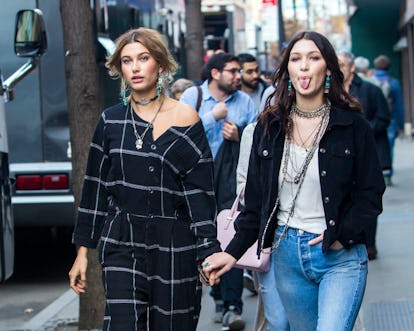 Getty Images
Like so many others, Bella Hadid commemorated her participation in the 2020 election by posing with her "I voted" sticker. But Hadid's post in particular stood apart. Specifically, she voted wearing MM6 Margiela x The North Face, marking its first sighting out in the wild. Hadid made it official: The collaboration is a rare instance of suburban staples getting the high fashion treatment to nail the intersection between practical and chic.
At first glance, Hadid appears to be wearing a classic Denali North Face jacket, with black panels, a white embroidered logo, and fleece. But upon closer inspection, it's clear why MM6 technically classifies its take as a top; there are zippered arm holes instead of sleeves. Most notably, it also has a circular silhouette. Simply put, when laid flat, it looks like an M&M.
Its wearers, too, resemble M&Ms—at least those bold enough to wear the classic and oversized versions. Hadid opted for the cropped version, which turns out to be just as wearable as your average North Face fleece.
Hailey Bieber, on the other hand, has opted to wear hers as a statement piece. On Monday, she Instagrammed a photo of herself showcasing another facet of the hybrid garment: It also functions as a crop top, only adding to the confusion. "Wait is this a jacket or a vest?," one follower commented. Either way, she continued: "I'm obsessed." And as is usually the case with anything a supermodel endorses, so are others. The evergreen version Bieber and Hadid both opted for has since sold out.