Bella Hadid, Kendall Jenner, and Model Friends Hit Up Paris Strip Club
Why would Bella Hadid, Kendall Jenner and Joan Smalls hit up a Parisian strip club? The Weeknd seems like a good excuse.
---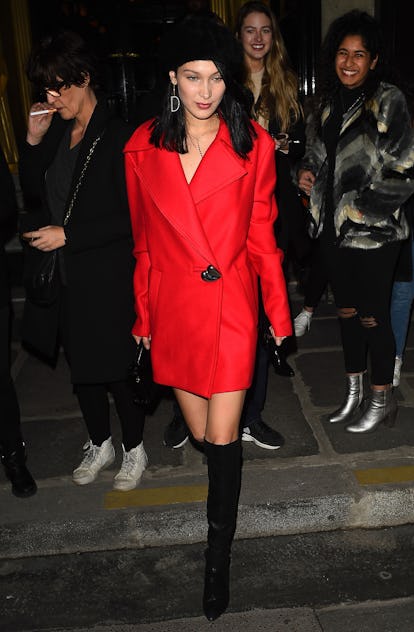 Marc Piasecki/Getty Images
Ah, Paris. A city renowned for its unparalleled cultural offerings, its exquisite foods and its general sense of romance and refinement. Yet, that doesn't mean the city doesn't have a down and dirty side, and that even the fashion set can't help but indulge in it occasionally.
On Wednesday night, to wind off steam after a full day of shows, a who's who of modeling luminaries decided to hit up a strip club. Bella Hadid, Kendall Jenner, Hailey Baldwin, Joan Smalls, Jasmine Sanders, and Lily Donaldson hit up Pink Paradise in Paris.
Mind you, this is not one of Paris's famed cabaret clubs like the Moulin Rouge or the Crazy Horse. It's an honest-to-god strip club that might not seem so out of place in, say, Tampa, Florida. Think less of the can-can and more pole dancing. The club's website describes it as "in the style of an American Lap dancing club but with a Parisian touch which attracted a high class and celebrity clientele."
Naturally, the pack on Instagram-famous models couldn't help but 'gram their shenanigans at the club.
Though, the girls seemed to be more interested in each other than the dancers. This appears to be Jenner's bootie and Sanders' slapping hand.
Heading out to a strip club with her besties seemed particularly fitting given the day Hadid had. The model walked the runway for H&M Studio. The show just so happened to feature a performance by her ex-boyfriend The Weeknd. Though there wasn't an encounter anywhere as dramatic as the former flames had at the Victoria's Secret Show, also held in Paris late last year. Hadid was said to keep her eyes straight ahead, and notably didn't walk down the runway dancing to the Weeknd's music like some of the other models did.
Elsewhere in the city on the same night, the Weeknd was spotted out and about with his new all-but-official flame Selena Gomez (Gomez, by the way, was not at the H&M show, but that could have as much to do with her deal with Coach as it does her current romantic endeavors). The singer hasn't appeared at any other show but Coach since signing the rumored $10 million deal).
Though, a strip club seems like as safe as bet as any if you're trying not to cross paths with a former Disney star newly in love.
E! News says that the model posse then hit up "Lark Nightclub" after their Pink Paradise excursion, but we figure they're actually referring to L'Arc, the Paris hotspot where Tyga, Jenner's sister Kylie's boyfriend, happened to be performing.
In any event, it seems like seedier nightlife options are becoming quite the obsession for the fashion crowd during PFW. Both buzzy brands Vetements and Hood By Air have held their shows in underground sex clubs in the city in recent years.
Bella Hadid Is the Runway Queen of Fall 2017 Fashion Week
Bella Hadid walks the runway during the Chanel show as part of the Paris Fashion Week.

Dominique Charriau
Bella Hadid walks the runway during the Lanvin Ready to Wear fashion show as part of the Paris Fashion Week.

Victor VIRGILE
Bella Hadid walks the runway during the H&M Studio SS17 show as part of the Paris Fashion Week.

Marc Piasecki
Bella Hadid walks the runway during the H&M Studio SS17 show as part of the Paris Fashion Week.

Marc Piasecki
Bella Hadid walks the runway at the Versace show during Milan Fashion Week.

Estrop/Getty Images
Bella Hadid walks the runway at the Moschino Ready to Wear fashion show during Milan Fashion Week.

Victor Virgile/Getty Images
Bella Hadid walks the runway at the Moschino Ready to Wear fashion show during Milan Fashion Week.

Victor VIRGILE
Bella Hadid walks the runway at the Fendi Ready to Wear fashion show during Milan Fashion Week.

Victor Virgile/Getty Images
Bella Hadid walks the runway at the Alberta Ferretti show during Milan Fashion Week.

Pietro D'aprano
LONDON, ENGLAND – FEBRUARY 18: Model Bella Hadid walks the runway at the VERSUS designed by Donatella Versace show during the London Fashion Week February 2017 collections on February 18, 2017 in London, England. (Photo by Estrop/Getty Images)

Estrop
Bella Hadid walks the runway at the TommyLand Tommy Hilfiger Spring 2017 Fashion Show.

Frazer Harrison/Getty Images
Bella Hadid walks the runway at the TommyLand Tommy Hilfiger Spring 2017 Fashion Show.

Frazer Harrison/Getty Images
Bella Hadid walks the runway at the Zadig & Voltaire fashion show during New York Fashion Week.

Albert Urso/GettyImages
Bella Hadid walks the runway at Alexander Wang show during New York Fashion Week.

Antonio de Moraes Barros Filho/Getty Images
Bella Hadid walks the runway at the Oscar de La Renta fashion show during New York Fashion Week.

Peter White/Getty Images
Bella Hadid walks the runway for the Brandon Maxwell collection during New York Fashion Week.

JP Yim/Getty Images
Bella Hadid walks the runway at the Sies Marjan fashion show during New York Fashion Week.

Victor Virgile/GettyImages
Bella Hadid walks the runway at the Carolina Herrera fashion show during New York Fashion Week Fall.

Victor Virgile/GettyImages
Bella Hadid walks the runway at the Prabal Gurung fashion show during New York Fashion Week.

Victor Virgile/GettyImages
Bella Hadid walks the runway at the Prabal Gurung fashion show during New York Fashion Week.

Victor Virgile/GettyImages
Bella Hadid walks the runway during the Michael Kors Collection Fall 2017 fashion show.

JP Yim/GettyImages
Bella Hadid walks the runway for the Anna Sui collection during New York Fashion Week.

Peter White/GettyImages
Bella Hadid walks the runway for the Anna Sui collection during New York Fashion Week.

Peter White/GettyImages
Bella Hadid walks the runway for Ralph Lauren collection during New York Fashion Week.

Slaven Vlasic/GettyImages
Unwind at Home With Bella Hadid: