Bella Hadid: America's Next Top Model
In case you missed them, here are the top style stories of the week.
---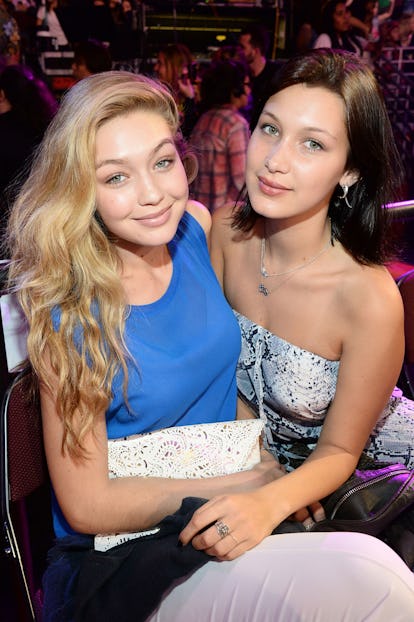 Bacall, Lauren The actress, who passed away last week, will be the subject of a new, certainly glam exhibition at the Museum at FIT.
Beckham, Victoria Took the ALS Ice Bucket Challenge with a little help from her sons. Romeo, oh Romeo.
Delevingne, Cara To star alongside John Stamos in a Beach Boys-themed musical. Some of these just write themselves.
Deng, Ataui The model, who went missing in New York last week, turned up at St. Luke's Roosevelt hospital.
Depp, Lily Rose Is following in her parents' footsteps with an upcoming acting role. Unfortunately, Cara Delevingne and John Stamos will not be part of this project.
Downton Abbey The TV show banned cast members from wearing modern underwear on set. Water bottles still permitted.
Fallon, Jimmy Shaved Jared Leto's beard on The Tonight Show. Is clearly living the dream.
Gap Just wants you to dress normal, okay?
Gainsbourg, Charlotte Teamed up with Current Elliott on a collection of denim. Très chic.
Hadid, Bella The younger sister of Tom Ford's muse du jour was just signed to IMG modeling agency.
Jovovich, Milla Is pregnant with her second child, aka future model #2.
Julep The nail company makes women feel bad about painting their own nails in order to sell a new product. Learns that self-loathing is effective.
McConaughey, Matthew Is very pro fanny pack. Not at all self-loathing.
Moss, Kate The model's left breast provided inspiration for a London restaurant 34's champagne coupe. The right one feels left out.
Prada Used its cute 2011 banana print to create a men's capsule collection at Dover Street Market. Get ready, boys.
Swift, Taylor Befriended Suri Cruise. Completes her It girl posse.
That J. Crew Gingham Shirt Yes, the one that your boyfriend has. It now has its own Instagram account.
Upton, Kate Named the highest paid newcomer model of 2014. Sorry Cara.
Versace, Donatella Admits that she loves diamonds. Shocker.