Bella Hadid Skipped Coachella 2017 to Go Sky-Diving
Now that's a dramatic way to avoid your ex.
---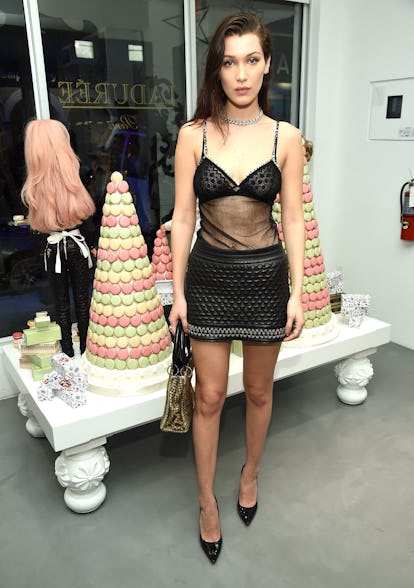 Dimitrios Kambouris
While it might seem like every young celebrity was at Coachella this weekend, Bella Hadid was conspicuously missing from the festivities.
But thanks to Instagram, we know that the supermodel was up to something even wilder than the music festival. On the same day as Selena Gomez shared her first 'gram of The Weeknd, Hadid posted a video of herself sky diving.
"Jumped out of a plane today," she captioned with emoji on emoji. Hadid's adventure didn't stop there: she followed up the post with a selfie of her driving a luxury car and then relaxed on a yacht with her friends. Now that's going out of your way to avoid an ex.
Related: Bella Hadid, Kendall Jenner, and Model Friends Hit Up Paris Strip Club
Bella Hadid Is the Runway Queen of Fall 2017 Fashion Week
Bella Hadid walks the runway during the Chanel show as part of the Paris Fashion Week.

Dominique Charriau
Bella Hadid walks the runway during the Lanvin Ready to Wear fashion show as part of the Paris Fashion Week.

Victor VIRGILE
Bella Hadid walks the runway during the H&M Studio SS17 show as part of the Paris Fashion Week.

Marc Piasecki
Bella Hadid walks the runway during the H&M Studio SS17 show as part of the Paris Fashion Week.

Marc Piasecki
Bella Hadid walks the runway at the Versace show during Milan Fashion Week.

Estrop/Getty Images
Bella Hadid walks the runway at the Moschino Ready to Wear fashion show during Milan Fashion Week.

Victor Virgile/Getty Images
Bella Hadid walks the runway at the Moschino Ready to Wear fashion show during Milan Fashion Week.

Victor VIRGILE
Bella Hadid walks the runway at the Fendi Ready to Wear fashion show during Milan Fashion Week.

Victor Virgile/Getty Images
Bella Hadid walks the runway at the Alberta Ferretti show during Milan Fashion Week.

Pietro D'aprano
LONDON, ENGLAND – FEBRUARY 18: Model Bella Hadid walks the runway at the VERSUS designed by Donatella Versace show during the London Fashion Week February 2017 collections on February 18, 2017 in London, England. (Photo by Estrop/Getty Images)

Estrop
Bella Hadid walks the runway at the TommyLand Tommy Hilfiger Spring 2017 Fashion Show.

Frazer Harrison/Getty Images
Bella Hadid walks the runway at the TommyLand Tommy Hilfiger Spring 2017 Fashion Show.

Frazer Harrison/Getty Images
Bella Hadid walks the runway at the Zadig & Voltaire fashion show during New York Fashion Week.

Albert Urso/GettyImages
Bella Hadid walks the runway at Alexander Wang show during New York Fashion Week.

Antonio de Moraes Barros Filho/Getty Images
Bella Hadid walks the runway at the Oscar de La Renta fashion show during New York Fashion Week.

Peter White/Getty Images
Bella Hadid walks the runway for the Brandon Maxwell collection during New York Fashion Week.

JP Yim/Getty Images
Bella Hadid walks the runway at the Sies Marjan fashion show during New York Fashion Week.

Victor Virgile/GettyImages
Bella Hadid walks the runway at the Carolina Herrera fashion show during New York Fashion Week Fall.

Victor Virgile/GettyImages
Bella Hadid walks the runway at the Prabal Gurung fashion show during New York Fashion Week.

Victor Virgile/GettyImages
Bella Hadid walks the runway at the Prabal Gurung fashion show during New York Fashion Week.

Victor Virgile/GettyImages
Bella Hadid walks the runway during the Michael Kors Collection Fall 2017 fashion show.

JP Yim/GettyImages
Bella Hadid walks the runway for the Anna Sui collection during New York Fashion Week.

Peter White/GettyImages
Bella Hadid walks the runway for the Anna Sui collection during New York Fashion Week.

Peter White/GettyImages
Bella Hadid walks the runway for Ralph Lauren collection during New York Fashion Week.

Slaven Vlasic/GettyImages
Bella Hadid, a Bubble Bath, and Jenga: What More Could You Want?: