Bella Hadid Once Broke Up with a Horse So She's Equipped to Get Over The Weeknd
In a new interview, she admits, "It'll be hard for a while." But says she's equipped to handle heartbreak because she once had to sell her favorite horse.
---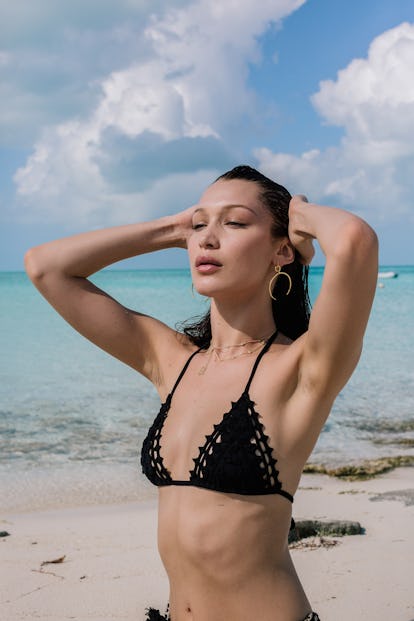 Bella Hadid has mostly kept tight lipped about her very-public breakup with Abel Tesfaye (The Weeknd)—even in light of his new, very-public, [but still-not-quite-confirmed romance]http://www.wmagazine.com/story/selena-gomez-and-the-weeknd-art-lovers-mesmerized-by-renaissance-nudes) with Selena Gomez.
Now, Hadid finally has spoken, making it well known that no, Tesfaye was not the first time her heart was broken. In other words, she's fine and fully equipped to recover.
Speaking to Teen Vogue for it's "Young Love" issue, the 20-year-old revealed that her first breakup was with…a horse named Lego. The supermodel explained that, due to lyme disease, she had to give up her equine love (and subsequent Olympic dreams). Pet lovers, prepare for a love story for the ages.
"Lego was my main, my ride or die," Bella said. "When I had to sell him, it was like a breakup! I was really traumatized. You can ask any equestrian: You develop a crazy, emotional connection with this animal. When you're riding a horse, they have full control over you, and they can literally kill you in a second, so you build a trust with them."
Consider the bar set very high for Tesfaye and any future boyfriends.
Bella continued on with some very mature and honest thoughts about ending her celebrity romance. The two announced their split last November due to scheduling conflicts. And despite fulfilling everyone's ex-girlfriend dreams by reuniting on the Victoria's Secret runaway, Bella admits it wasn't as perfect as the Internet imagined.
It was my first breakup—or second, next to the horse—and so public. As an outsider, you might think I handled it so well, but it's always in your heart, and you always feel it very heavily. It'll be hard for a while. Love hurts, but you have to pull through. But I'll always respect him, and I'll always love him. Sometimes you want to be sad about it or handle it differently, but at the end of the day, you never want to burn a bridge that you've fought so hard to build."
Exclusive: Bella Hadid, Alessandra Ambrosio, and Emily Ratajkowski Take the Bahamas by Storm
Watch How Bella Hadid Likes to Unwind at Home: