Met Gala 2017: Bella Hadid Looks Devastating in Sheer Catsuit with The Weeknd Only Feet Away
Now that's a look that's guaranteed to turn heads.
---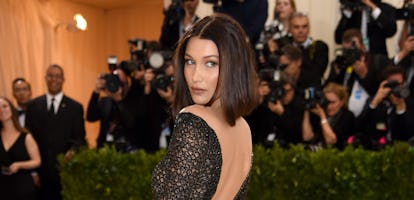 Dimitrios Kambouris
At the last Met Gala, Bella Hadid walked the red carpet on the arm of her then boyfriend The Weeknd. He wore an all-black suit, shirt, and tie, while she—coordinating like no other—stunned in a strapless black gown, complete with thigh-high slit that revealed her equally high-risen stiletto heeled boots. This year, The Weeknd walked the red carpet with his new girlfriend, Selena Gomez. It was, in fact, their public debut as a couple.
So, what was Bella to do? She walked the Met Gala red carpet alongside designer Alexander Wang, the creative genius behind her revenge look of the evening.
Hadid stepped onto the 2017 Met Gala red carpet wearing the catsuit to end all catsuits, and that's a competitive category. Not only did the black woven jumpsuit boast a barely-there back that dipped dangerously far past the small of her back, but it was also completely sheer. It fit Hadid like a glove, leaving little to the imagination.
The legs were even so covered and second-skin-like that the look covered her feet and tucked perfectly into her pointy-toe heels. What's more, Vogue reported that Hadid was actually sewn into the catsuit to ensure the tight fit. Though she accessorized with matching diamond snake cuffs on both wrists, she had little other jewelry to speak of.
Though to the best of the public's knowledge, the parting of ways between Hadid and The Weeknd wasn't anything but amicable, the model managed to at least win on the court of fashion opinion. And, there were no awkward run-ins, like at the Victoria's Secret Fashion Show. Not yet, anyway.
In any case, it certainly doesn't hurt to look better than ever when you know you're going to run into your ex.
Related: Met Gala 2017: Rihanna, Cara Delevingne and More of the Boldest Hair and Makeup on the Red Carpet
Bella Hadid, A Bubble Bat and Jenga: What More Could You Want?
Bella Hadid Is the Runway Queen of Fall 2017 Fashion Week
Bella Hadid walks the runway during the Chanel show as part of the Paris Fashion Week.

Dominique Charriau
Bella Hadid walks the runway during the Lanvin Ready to Wear fashion show as part of the Paris Fashion Week.

Victor VIRGILE
Bella Hadid walks the runway during the H&M Studio SS17 show as part of the Paris Fashion Week.

Marc Piasecki
Bella Hadid walks the runway during the H&M Studio SS17 show as part of the Paris Fashion Week.

Marc Piasecki
Bella Hadid walks the runway at the Versace show during Milan Fashion Week.

Estrop/Getty Images
Bella Hadid walks the runway at the Moschino Ready to Wear fashion show during Milan Fashion Week.

Victor Virgile/Getty Images
Bella Hadid walks the runway at the Moschino Ready to Wear fashion show during Milan Fashion Week.

Victor VIRGILE
Bella Hadid walks the runway at the Fendi Ready to Wear fashion show during Milan Fashion Week.

Victor Virgile/Getty Images
Bella Hadid walks the runway at the Alberta Ferretti show during Milan Fashion Week.

Pietro D'aprano
LONDON, ENGLAND – FEBRUARY 18: Model Bella Hadid walks the runway at the VERSUS designed by Donatella Versace show during the London Fashion Week February 2017 collections on February 18, 2017 in London, England. (Photo by Estrop/Getty Images)

Estrop
Bella Hadid walks the runway at the TommyLand Tommy Hilfiger Spring 2017 Fashion Show.

Frazer Harrison/Getty Images
Bella Hadid walks the runway at the TommyLand Tommy Hilfiger Spring 2017 Fashion Show.

Frazer Harrison/Getty Images
Bella Hadid walks the runway at the Zadig & Voltaire fashion show during New York Fashion Week.

Albert Urso/GettyImages
Bella Hadid walks the runway at Alexander Wang show during New York Fashion Week.

Antonio de Moraes Barros Filho/Getty Images
Bella Hadid walks the runway at the Oscar de La Renta fashion show during New York Fashion Week.

Peter White/Getty Images
Bella Hadid walks the runway for the Brandon Maxwell collection during New York Fashion Week.

JP Yim/Getty Images
Bella Hadid walks the runway at the Sies Marjan fashion show during New York Fashion Week.

Victor Virgile/GettyImages
Bella Hadid walks the runway at the Carolina Herrera fashion show during New York Fashion Week Fall.

Victor Virgile/GettyImages
Bella Hadid walks the runway at the Prabal Gurung fashion show during New York Fashion Week.

Victor Virgile/GettyImages
Bella Hadid walks the runway at the Prabal Gurung fashion show during New York Fashion Week.

Victor Virgile/GettyImages
Bella Hadid walks the runway during the Michael Kors Collection Fall 2017 fashion show.

JP Yim/GettyImages
Bella Hadid walks the runway for the Anna Sui collection during New York Fashion Week.

Peter White/GettyImages
Bella Hadid walks the runway for the Anna Sui collection during New York Fashion Week.

Peter White/GettyImages
Bella Hadid walks the runway for Ralph Lauren collection during New York Fashion Week.

Slaven Vlasic/GettyImages