Bella Hadid Saved Gigi From A Stumble Last Night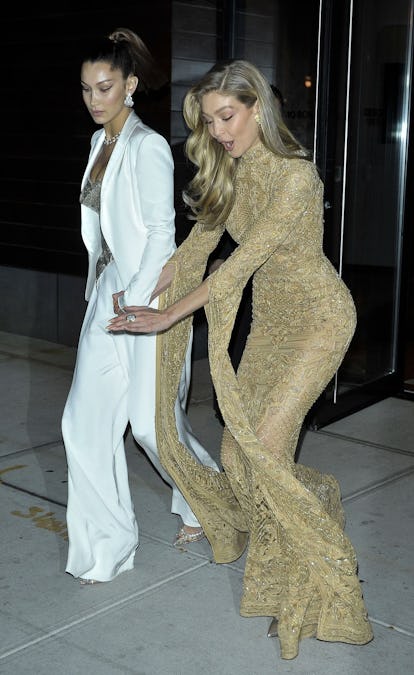 Patricia Schlein/Star Max/GC Images/Getty Images
When the Hadid sisters so much as sneeze the world notices, and when one or the other even briefly loses their balance, as has been known to happen, the world gasps. Thankfully, they'll always have each other and that sisterly bond was on full display Monday night when Gigi Hadid stumbled but didn't quite fall, thanks to her sis's steady hand.
A series of photos captured the less than graceful moment when Gigi tripped while at the Glamour Women of the Year Awards, which was held on Monday evening at Kings Theatre in Brooklyn. The snapshots show Gigi, who was honored as a Glamour Woman of the Year, losing her balance in her floor-length gold dress, but she's able to avoid fully falling by gripping the hand of Bella Hadid (her date for the event). The day — and the dress — were obviously saved by the bonds of sisterhood, and the world breathed a sigh of relief.
Gigi spoke about receiving the honor on The Today Show. She explained that no matter how many glamorous selfies she might post, she's not perfect. "Someone in my industry might be looked at as perfect, but it's of huge importance to let little girls know that just because I'm winning this award doesn't mean that everything is figured out," she said. "I wake up on days and it's not necessarily that I feel like Woman of the Year every morning."
Those thoughts on perfection seem to echo the message she conveyed in her acceptance speech. As she accepted the title, she explained what she'd like to be as a role model, saying, "I think my biggest responsibility, standing here, is to all the young women who are watching. I want to let you know that just because I'm standing here, winning this award, doesn't mean that I have it all figured out. I'm so grateful for every opportunity, but that doesn't mean that I wake up feeling like the Gigi that the world expects me to be on a daily basis."
So relatable, kind of like almost tripping in a floor-length gown.
Related: Gigi Hadid Shares Her Secrets to Getting Over Insecurities and the Blues
Gigi Hadid Dramatically Reads "Popular":
A Brief History of Bella Hadid at Paris Couture Week
Bella Hadid walks the runway during the Chanel Haute Couture Spring Summer 2016 show as part of Paris Fashion Week on January 26, 2016 in Paris, France.

Victor Boyko
Bella Hadid walks the runway during the Atelier Versace Haute Couture Fall/Winter 2016-2017 show as part of Paris Fashion Week on July 3, 2016 in Paris, France.

Getty
Bella Hadid outside Versace during Paris Fashion Week Haute Couture F/W 2016/2017 on July 3, 2016 in Paris, France.

Getty
Bella Hadid walks the runway during the Christian Dior Haute Couture Fall/Winter 2016-2017 show as part of Paris Fashion Week on July 4, 2016 in Paris, France.

Getty
Bella Hadid walks the runway during the Alexandre Vauthier Haute Couture Fall/Winter 2016-2017 show as part of Paris Fashion Week on July 5, 2016 in Paris, France.

Getty
Bella Hadid walks the runway at Fendi Roma 90 Years Anniversary fashion show at Fontana di Trevi on July 7, 2016 in Rome, Italy.

Venturelli
Bella Hadid walks the runway at Fendi Roma 90 Years Anniversary fashion show at Fontana di Trevi on July 7, 2016 in Rome, Italy.

Getty
Bella Hadid is seen on January 23, 2017 in Paris, France.

Getty
Bella Hadid walks the runway during the Chanel Haute Couture Spring Summer 2017 show as part of Paris Fashion Week on January 24, 2017 in Paris, France.

Getty
Bella Hadid attends the Christian Dior Haute Couture Spring Summer 2017 Bal Masque as part of Paris Fashion Week on January 23, 2017 in Paris, France.

Getty
Bella Hadid is seen leaving the Chanel Fashion Show during Paris Fashion Week : Haute Couture F/W 2017-2018 on January 24, 2017 in Paris, France.

Getty
Bella Hadid walks the runway during the Alexandre Vauthier Haute Couture Spring Summer 2017 show as part of Paris Fashion Week on January 24, 2017 in Paris, France.

Getty
Bella Hadid walks the runway during the Alexandre Vauthier Haute Couture Spring Summer 2017 show as part of Paris Fashion Week on January 24, 2017 in Paris, France.

Getty
Alexandre Vauthier and Bella Hadid attend the Swarovski Celebrates 10 Seasons X Alexandre Vauthier cocktail and dinner at Hotel Ritz on January 24, 2017 in Paris, France.

Getty
Bella Hadid out and about in Paris, France, on July 1, 2017.

Getty
Bella Hadid attends Miu Miu Cruise Collection show as part of Haute Couture Paris Fashion Week on July 2, 2017 in Paris, France.

Getty
Bella Hadid walks the runway during Miu Miu Cruise Collection show as part of Haute Couture Paris Fashion Week on July 2, 2017 in Paris, France.

GEtty
Bella Hadid is seen on July 3, 2017 in Paris, France.

Getty
Bella Hadid is seen in Paris, France, on June 3, 2017.

Getty
Bella Hadid attends 'Christian Dior, couturier du reve' Exhibition Launch celebrating 70 years of creation at Musee Des Arts Decoratifs on July 3, 2017 in Paris, France.

Getty
Bella Hadid presents a creation by Alexandre Vauthier during the 2017-2018 fall/winter Haute Couture collection in Paris on July 4, 2017.

Getty
Bella Hadid walks the runway during the Alexander Vauthier Haute Couture Fall/Winter 2017-2018 show as part of Haute Couture Paris Fashion Week on July 4, 2017 in Paris, France.

Getty
Bella Hadid attends Vogue Foundation Dinner during Paris Fashion Week as part of Haute Couture Fall/Winter 2017-2018 at Musee Galliera on July 4, 2017 in Paris, France.

Getty
Bella Hadid walks the runway during the Maison Margiela Haute Couture Fall/Winter 2017-2018 show as part of Haute Couture Paris Fashion Week on July 5, 2017 in Paris, France.

Getty