Italian Fashion Hits Fort Lauderdale
A well-clad crowd celebrated the opening of a fashionable new exhibition.
---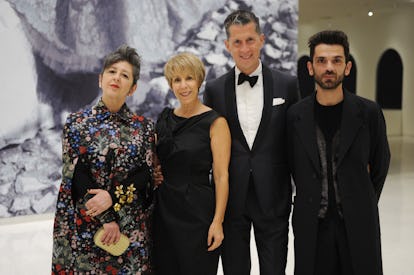 What: The Bellissima Gala at the Nova Southeastern University Art Museum in Fort Lauderdale's Bellissima Gala..
When: Friday, February 5th
Where: The NSU Art Museum's interiors were transformed into a Sixties Italian fantasia in keeping with the premiere of the exhibition (and the raison d'être for the event) Bellissima: Italy and High Fashion 1945-1968, presented by Bulgari. Black and white décor invoked the design motif of the era in question and Roberto Di Pinto, the executive chef at the Bulgari Hotel in Milan, was flown in to oversee the dinner menu.
Who: NSU Art Museum director and chief curator Bonnie Clearwater; W Magazine editor-in-chief, gala chair and co-curator of Bellissima Stefano Tonchi; Bulgari Global CEO Jean-Christophe Babin; Jane Holzer; Beth Rudin DeWoody, and David Maupin were among the fashion and art heavyweights in attendance. A few lucky women like Gloria Marina Bellelli, consul general of Italy in Miami and gala co-chair Tara Forman, got to handpick baubles from Bulgari for the occasion.
Why: As New York prepares for the onset of the women's fall 2016 collections, Bellissima and its focus on the immense creativity in Italian fashion post-World War II and the trace elements of that period in contemporary Italian culture serves as a reminder that looking back is as important as looking forward.
Photos: Italian Fashion Hits Fort Lauderdale
View of "Bellisima: Italy and High Fashion," an exhibit at the NSU Art Museum, Fort Lauderdale.
Maria Luisa Frisa, Bonnie Clearwater, Stefano Tonchi, and Gabriele Monti.
Beth Rudin DeWoody and Firooz Zahedi.
Giampaolo Della Croce, Margarita Waxman, and Daniel Diaz.
Adrienne bon Haes and Marvin Ross Friedman.
Daren Koenig Cronin and Ryan Cronin.
Jane Holzer, Sarah Gavlak, and David Maupin.
Lucia Boscaini and Daniel Paltridge.