Ben Gorham's Stockholm Tips
The founder of Byredo fragrances opens up his little black book.
---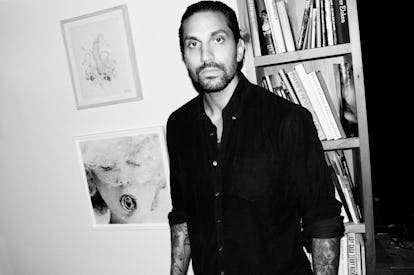 At well over six feet tall, covered in tattoos, and strikingly handsome, Ben Gorham, the half-Indian, half-Canadian, Swedish-born founder of Byredo fragrances, is not your prototypical perfumer. Gorham trained in fine arts and briefly pursued a career in professional basketball before deciding to follow his, well, nose. Since its launch in 2006 in Stockholm, Byredo has quickly become a favorite niche brand.
This month, Gorham introdueced 1996—a collaboration with his longtime friends, the photographers Inez van Lamsweerde and Vinoodh Matadin. The trio originally created 1996 as a private edition, which they gave to friends and colleagues as a Christmas gift. The recipients all loved the fragrance so much, however, that Gorham decided to take it public. While Byredo has certainly developed a global fan base, the brand maintains firm Swedish roots. If you happen to be passing through Stockholm, a visit to the Byredo in the heart of the city is a must. Here are some of Gorham's Stockholm tips.
1. BAUER The only real bespoke tailor left in Scandinavia. Address: Brunnsgatan 4 Web: awbauer.com
2. INGELSTA KALKON Turkey served a thousand ways! Address: Humlegårdsgatan 13 Web: ingelstakalkon.se
3. SNEAKERSNSTUFF One of the best sneaker stores in the world, which happens to be in my neighborhood. Address: Åsögatan 124 Web: sneakersnstuff.com
4. ROSENDALS TRÄDGÅRD (Rosendals garden) Great for lunch, they grow all their own vegetables. Location: Djurgården Web: rosendalstradgard.se
5. MÄSTER ANDERS Classic Swedish style bistro that's been around since the 1800's. Location: Pipersgatan 1, Kungsholmen Web: masteranders.se
6. MATBAREN By Mathias Dahlgren at Grand Hotel Stockholm's best fine dining experience. Location: Grand Hôtel, Södra Blasieholmshamnen 6 Web: mathiasdahlgren.com
7. TENNIS COURT ON SKEPPSHOLMEN Summer tennis and breakfast at Hotel Skeppsholmen, hard to beat. Location: Skeppsholmen island Web: hotelskeppsholmen.se
8. ARTEK STORE Best assortment of Alvar Aalto furniture. Address: Repslagargatan 11 Web: artek.fi
9. KONST-IG Next door to the sneaker shop and great art and architecture books. Address: Åsögatan 124 Web: konstigbooks.com
10. STOCKHOLM CITY LIBRARY Architectural landmark designed by Gunnar Asplund in 1928. Address: Sveavägen 73 Web: biblioteket.stockholm.se
11. HOT DOG STAND Try sausages from all over the world. Ask for the secret sauce. Address: Nybrogatan 57 Web: ostermalmskorvspecialist.se
12. STOCKHOLM CLASSIC TATTOO Best traditional tattoos in Stockholm. Ask for Jenny Address: Södermannagatan 60 Web: stockholmclassic.se
13. OUR LEGACY Menswear for those in the know. Address: Jakobsbergsgatan 11 Web: www.ourlegacy.se
14. JUNIBACKEN Experience the world of Swedish author Astrid Lindgren's children stories— great for children as well as grown ups. Location: Galärvarvsvägen, Djurgården Web: junibacken.se