Meet Ben Krigler, a Fifth Generation Perfumer Who Does Not Travel Light
The beauty heir spends about an hour every day on his grooming routine, and admires Karl Lagerfeld's hair.
---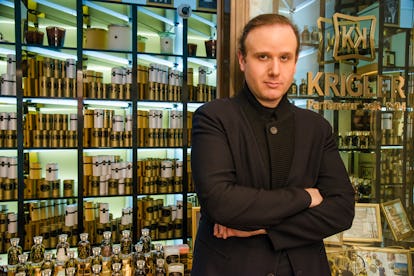 House of Krigler is a legend in the perfume business. Everyone from Marlene Dietrich and Grace Kelly to F. Scott Fitzgerald and John F. Kennedy have flocked to the family's Cap d'Antibes parfumerie for its unique blends made with the finest ingredients. More than 100 years later, Ben Krigler, the fifth generation scion, is upholding the family tradition and continuing to spread the word around the world. This month, Krigler even opened a new boutique inside the Hotel Adlon in Berlin. Here, he explains how he maintains his extensive grooming regimen on the road and more.
What's your first grooming memory? When I was 14, my father came to me and said, "You are now old enough to shave." He went to his bedroom and brought me a wooden box. Inside was a shaving set that was bought by my great grandfather Henri in Vienna, Austria during a trip. The set was all in wood with a blaireau [shaving brush], and each tool was made in a tropical wood with leather accents. The set was so elegant, it made the moment extra special.
What was your first cologne experience? My first cologne experience occurred when I was actually sick. I was probably four or five years old and I had so much pain in my stomach. My father brought in a bottle of Good Fir 11, which was the Krigler cologne he wore. He started spraying some of it into the palm of his hand, then rubbed my belly with it. It was warm and, just like magic, my pain left. My father always called it the magic cologne.
What is your daily grooming routine? Well, in France, it's normal to take care of yourself for very little cost. I always use products that I purchase from a pharmacy in Antibes on the Cote d'Azur. Everything is dermatologically tested. I first apply some fresh cold water on my face when I wake up. In the shower, I mix different René Furterer shampoos together in the palm of my hand—one to repair and one for volume. After the shower, I shave, and because my skin is super sensitive, I use a calming mask by this small French brand called Cible. Finally, Bioderma moisturizer. My routine takes me at least 45 minutes to an hour. I like to take my time, because all my ideas of the day start during my morning routine, so I always have pens available. It's also where I sometimes draw what I've been dreaming of the night before.
If we opened your medicine cabinet, what would we find? Avène shaving cream, Bioderma moisturizer and eye cream, my Sonicare toothbrush, a Gilette razor, Rogé Cavaillès deodorant, some pain killers.
What's in your shower? 2-3 bottles of different Furterer shampoos, Bioderma face cleanser, my shower gels (from Hermes to Rogé Cavaillès) and Klorane after-shampoo cream.
What's the one product you can't live without? My Cible aftershave. I buy 10 bottles at a time. It's made with aloe vera, and since I have sensitive skin, it's the only one that calms my face when I shave.
What's currently in your dopp kit? To be clear, I don't travel light. I always have so much luggage. I'm like a snail; I worry that if I don't bring something, I'm going to miss it, so I basically bring everything that I mentioned above with me. Also, when I'm creating a new fragrance I need to bring all the different variations with me so I don't forget them. Sometimes the new fragrance mixes with my moisturizer and that's a good way to find out how the result is.
Is there a woman's fragrance that you love? Other than the fragrances in our collection that I've known since I was born, my mother used to mix Chanel No. 5 with our Chateau Krigler 12. I always remember that mix. When she was spraying that in the morning, it meant that I had to be ready to go to school. And I enjoyed our conversations. She would say to me, "I'm going to London, New York, Tokyo." I associated perfumes with work. But work, to me at the time, meant travel.
Are there any women's products you envy? Whatever I find useful, I get. When I had to have my first professional portrait taken, my mother gave me concealer. I was wondering why she gave it to me, but she told me that I needed it for pictures. It's not vanity, but it helps you look normal without using Photoshop.
Are there women's products—or beauty rituals—you pity? Waxing. I did it once or twice and I can tell that women have a thicker skin and are much more brave than men. I cannot handle pain like that!
Are there any women's products you frequently 'borrow'? When I was younger, my mother had The Meteorites by Guerlain. I was borrowing the makeup inside to draw on paper. When she found out that some were missing each time and realized what I was doing with them, she told me, "You'd better be Picasso if you use that to draw."
Is there a discontinued product you miss? Rogé Cavaillès used to make a shower gel with no scent. It was dermatologically tested as both a shower gel and moisturizer. It being discontinued was one of my biggest losses in life. As a perfumer, when a shower gel has no scent, it's perfect. When I find a product that really works for me I buy 4 or 5 bottles of it. In the past, I was crazy for this sweet shower gel from Rogé Cavaillès. I always regret not having bought more, and since I'm traveling so much, I prefer to keep a large stock of everything.
Where do you get your hair cut and beard trimmed? In Cap d'Antibes, there was a man who took care of my hair until recently. He was the only one who cut it and he recently retired, which is probably the reason I have longer hair and a ponytail. I'm becoming more wild now—well, a high-end wild. Wild, with excellent products.
Which male celeb do you think has the best hair? At the moment, Karl Lagerfeld's hair. He is a genius. I can't wait to have white hair because I wear mostly black. To me, white and black is the best fit. I envy Jared Leto for all the different hairstyles he does.
What beauty look on women do you love? What I call the Swedish look or Scandinavian look. When I was a kid, the women I found incredibly gorgeous were Scandinavian with blonde hair, almost no lipstick or natural skin tone, blue eyes and tanned skin.
What beauty look on women do you scratch your head at? Too much makeup from the '80s and '90s. I like when women are all natural or when they wear makeup that looks natural.
If you were given a Spa Day gift certificate, how would you spend it? Massage at the Mandarin Oriental in New York City. They have my favorite spa experience, including a massage, a jacuzzi, and steam room. It's perfect for me!
Watch W's most popular videos here:
Photos: Meet Ben Krigler, a Fifth Generation Perfumer Who Does Not Travel Light
Inside Ben Krigler's new store.