Take Young Actor Ben Schnetzer Very Seriously
The 27-year-old actor is already a master of dark and tormented parts.
---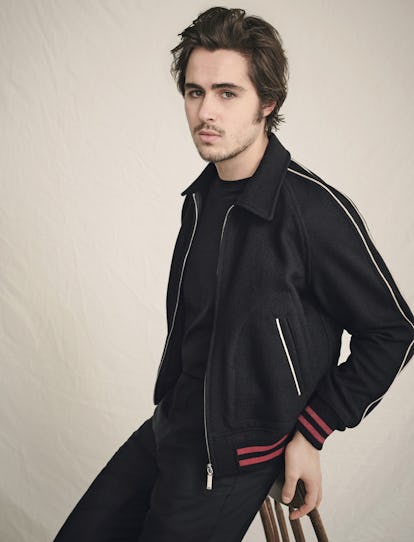 Photograph by Tom Allen, Styled by Sam Walker Hair by Bok-Hee for Orlando Pita Play at Streeters; Grooming by Yui Ishibashi; photography assistants: Helen Eriksson, Ben Wentzel; fashion assistant: Paige Viti
Ben Schnetzer was once an accomplished Elvis impersonator: Clad in glitter and sequins, and armed with an aluminum-foil microphone, he performed a full set of the King's hits—never mind that the audience was Schnetzer's family and he was all of four years old. (His older brother was Schnetzer's stage manager and costume designer.) It was an auspicious debut for the actor, now 27, who would eventually go on to star on the big screen alongside Nick Jonas as a fraternity pledge tormented during a series of hazing rituals in last year's Goat, as well as opposite Joseph Gordon-Levitt as an NSA analyst in Snowden.
Born to actor parents who met on the set of the soap opera One Life to Live, Schnetzer grew up both on and around the stage and screen. He appeared in school plays and musicals throughout childhood; in sixth grade, he landed his first major role as the Artful Dodger in a production of Oliver. Still, it wasn't until he landed a recurring part on the short-lived ABC series Happy Town at 19 that he thought of his talent as a calling. "It always seemed like acting was something I might want to do," he said. "When I got my first job, I realized, Oh, being an actor is more than just going on auditions—I can actually make a living out of this."
He decided to hone his craft. Armed with an audition monologue from Romeo and Juliet, Schnetzer went to study at the Guildhall School of Music & Drama in London, whose alumni also include Daniel Craig, Ewan McGregor, and Orlando Bloom. In drama school, he plunged into classical repertoire, studying Shakespeare and seeing local productions around London in his free time. "I could have lightened up a bit," he said, in hindsight. "It was just London—it was just go see plays or do homework."
His roles since graduation haven't let him lighten up much. During his final year at Guildhall, Schnetzer landed a role in the 2013 adaptation of Markus Zusak's The Book Thief, the young-adult drama in which Schnetzer played Max Vandenburg, a young Jewish man in hiding in World War II Germany. From there followed Pride, a dramedy about a group of gay activists involved with a mining strike in early-'80s Britain; and The Riot Club, about an elite eating club at Oxford University.
Though he's been working professionally for eight years, it wasn't until last year that Schnetzer debuted his breakout role alongside Nick Jonas in the drama Goat. Schnetzer plays Brad, the younger brother of Jonas's Brett, who, after a brutal mugging earlier in the summer, arrives at college as a freshman ready to pledge his big brother's fraternity. Yet the psychological aftershocks of that earlier trauma turn out to be poor preparation for the intense hazing he's about to endure. As Brad, Schnetzer is haunted and captivating. He takes beatings both physical and emotional, facing off against Jonas, as well as James Franco, who plays an alumnus of the fraternity. The film was a hit when it premiered at the 2016 Sundance Film Festival, making a festival darling of its star.
Coming up later this year is The Grizzlies, an indie drama in which he plays a high-school teacher who starts a lacrosse league in a remote Arctic town plagued with alcoholism and a high suicide rate, and Entebbe, based on the 1976 hijacking of an Air France flight. Next year, Schnetzer will appear in The Death and Life of John F. Donovan, the latest film from wunderkind director Xavier Dolan. (Kit Harington of Game of Thrones plays the titular Donovan; Jessica Chastain, Thandie Newton, and Natalie Portman also co-star.) And for all his formal training, for all the Shakespearean monologues memorized and scripts mastered, Schnetzer hasn't cast out the spirit of his early Elvis days.
"When you're acting, f—ing around is really important," he said.
Actress Anya Taylor-Joy was a bit starstruck when she met Saoirse Ronan on her birthday: