Zoolander Goes to Valentino
In case you missed them, here are the top style stories of the week.
---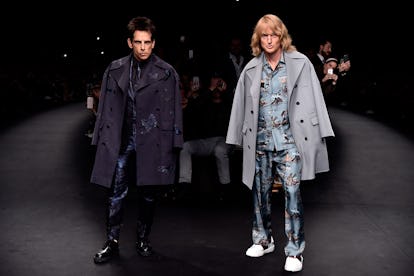 Campbell, Naomi Allegedly had a fight with Cara Delevingne after the supermodel disrespected Rihanna—then denied the weave pulling ever happened.
Christie, Gwendoline The Game of Thrones actress walked for Vivienne Westwood during Paris Fashion Week. Not a bad replacement for the designer's skiing granddaughter Cora Corre.
Collins, Lily The actress is officially one of Karl Lagerfeld's muses. Placement in entourage to follow shortly.
Gucci Plans to show Cruise collection in New York this summer. But not Brooklyn, because that's so Dior.
Jenner, Kendall May be the next face of Calvin Klein underwear. Sorry, Victoria's Secret. Maybe Kylie is available.
Jenner, Kylie Landed a beauty contract for Nip + Fab. It's no VS, but it will pay for some new extensions.
Kloss, Karlie The supermodel may appear in Zoolander 2. May teach Owen Wilson and Ben Stiller a thing or two about owning a runway.
Krakoff, Reed The fashion designer will be suspending operations, and closing his Madison Avenue store, to focus on e-commerce and accessories. Which is fine as long as we can get our bag fix.
Lagerfeld, Karl Turned Chanel's fall 2015 runway into a cafe. Made front row fans hungry in the process.
Moss, Lottie Kate's sister made her runway debut at the Sonia Rykiel Fall 2015 show. Encore, please!
Mulberry Finally appointed a new CEO, Thierry Andretta. You probably won't hear his name until he vacates the position.
Refaeli, Bar Announced that she's engaged to her boyfriend of Adi Ezra. Leo cries his heart out.
Schiaparelli May have found a replacement for Marco Zanini. As if Zanini could be replaced.
Schneider, Paula American Apparel's first female CEO plans to change everything. First step: ending sexual harassment in the workplace.
West, North Has a Frozen suitcase filled with custom Givenchy that she carried herself at Charles de Gaulle airport. Kanye plans to do the same next season.
Zoolander The film's stars Ben Stiller and Owen Wilson had a walk off at Valentino's Fall 2015 show. Everyone won.