Benedict Cumberbatch and Jessica Chastain Were Almost Bill and Sookie in True Blood
"True Blood" creator Alan Ball revealed the actor once auditioned for the HBO show.
---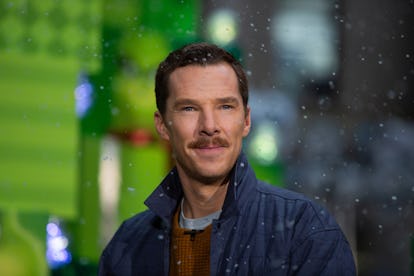 Nathan Congleton/Getty Images
As the True Blood creator Alan Ball revealed at the Vulture Festival in Los Angeles over the weekend, one of the greatest non-Twilight vampire-human love stories of our time was almost completely different. During a screening of True Blood's pilot episode in honor of its 10th anniversary this year, Ball shared that Benedict Cumberbatch and Jessica Chastain came pretty close to playing the vampire Bill Compton and the human waitress Sookie Stackhouse, roles that were ultimately filled by Stephen Moyer and Anna Paquin, respectively.
"I read Benedict Cumberbatch. He came and read for Bill," Ball said, according to The Hollywood Reporter, adding, "Jessica Chastain read for Sookie." Ball also shared that a then 17-year-old Jennifer Lawrence read for a "were-panther girl" who appears in an episode in the show's third season, but wasn't cast because she would've been a "weird" love interest for Ryan Kwanten, who is 14 years her senior.
Though he didn't explain why neither Cumberbatch nor Chastain ended up landing the parts, Ball noted that he wasn't initially sold on Paquin, either. "Anna wanted this role so bad. Poor thing, she read like five times, and I was like, 'Oh, do we buy her as Southern? Do we buy her as Sookie Stackhouse?'" he said.
In the end, Moyer and Paquin were the perfect choices to play Bill and Sookie, since they fell in love offscreen even quicker than their characters did onscreen. "They're falling in love [in their first scene together] because they hooked up [offscreen] on the second episode. The producer called me from the second episode and was like, 'I think you should know that Stephen and Anna are hooking up,'" Ball recalled. "It was never an issue, they were total pros, and now they have two kids together." He added, "They thought they were keeping it secret from everybody. The whole first season, everybody knew."
Moyer and Paquin went on to marry in August 2010, and welcomed two children together, twins Charlie and Poppy, now 6 years old. Of course, this grand on- and offscreen romance then begs the question: Would Cumberbatch and Chastain be married with children if Ball had granted them the chance to step into Bill and Sookie's shoes all those years ago? And is there some alternate universe where this did happen and the Oscars red carpet teems with tiny Chasterbatch children? Sadly, we'll never know for sure—and we probably won't ever see anything happen between the pair in this universe, since they're both already happily married to nonactors.
Related: Benedict Cumberbatch Gets Interviewed by a Cute Kid