Don't Miss: Bernadette Corporation
A retrospective of the artist collective Bernadette Corporation.
---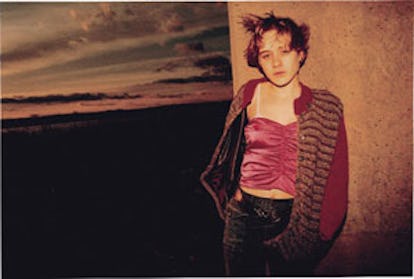 The New York–based hipster artist collective Bernadette Corporation, which came of age in the mid-nineties, produced several fashion lines inspired by urban street style; Made in USA, a strange but alluring fashion magazine; and a film about protesters at the 2001 G8 summit that was intercut with footage of fashion shoots and, of course, Chloë Sevigny (pictured, in an early photo series). Its first ever retro­spective, "Bernadette Corporation: 2000 Wasted Years," opening September 9 at Artists Space gallery in Manhattan, celebrates the gang's ragtag, innovative, irreverent spirit.
Photo: John minh nguyen; styled by Bernadette Van-Huy, American Fine Arts co.