Hooray for Hollywood
With a new museum show, the transplanted designer Bernhard Willhelm is living it up in La-la Land.
---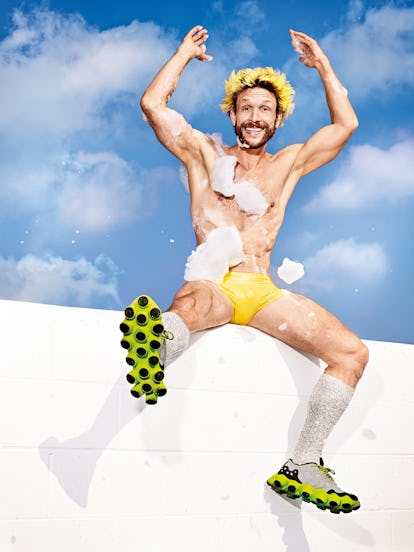 In 2013, after more than a decade living and working in Paris, the Bavarian-born fashion designer Bernhard Willhelm packed up his studio and moved his operation to L.A. "It wasn't a midlife crisis," assures Willhelm, 42, calling from his new perch in Beachwood Canyon. "I just needed a change—and Los Angeles was warm." It has also proved very welcoming. While Willhelm's riotous prints and curious silhouettes were never, in his opinion anyway, fully appreciated by the French, his off-kilter aesthetic and infectious energy have found traction with L.A.'s cultural elite. "Here, it doesn't matter so much whether your handbags are selling," sniffs Willhelm, who was invited by MOCA Pacific Design Center—a branch of the Museum of Contemporary Art that has exhibited the work of designers Hedi Slimane and Kate and Laura Mulleavy—to curate a show. Opening February 7, for a three-month run, "Bernhard Willhelm 3000: When Fashion Shows the Danger Then Fashion Is the Danger" explores Willhelm's vision of fashion and consumerism for the 22nd century. ("It's all about diversity," he divulges.) Pulling it together has not been unlike putting on one of his runway shows, which are infamous for their conceptual and comical sets and shenanigans. (His spring 2011 presentation was shut down after he set off plumes of colored smoke and blared an air-raid siren.) "My work fuses lots of creative worlds, but it has always been about humor, experimentation, and subversive messages."
Hair by Brittany Mroczek for Oribe. Digital technician: Casey Cunneen. Photography assistant: Shawn Merz. Special thanks to Cactus Cube Studio.