Journey Through Art History With These Bernie Sanders Memes
Sitting alone in the art gallery VIP.
---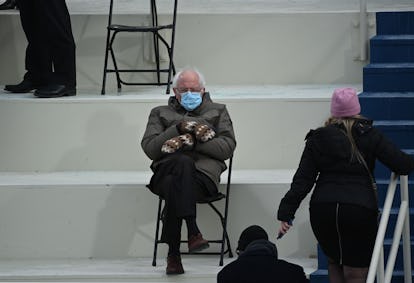 Photo by BRENDAN SMIALOWSKI/AFP via Getty Images
Bernie Sanders may not have been up on the dais, but he was the undeniable viral star of the 2021 inauguration. The Vermont senator is beloved for his progressive policies and sartorial commitment to doing the most while doing the absolute least. Sacred formal American tradition surrounded by dignitaries and media from all over the world? Sanders said nah and wore his utilitarian Burton winter coat (of the I Am Once Again Asking You meme fame) and cozycore mittens made by a teacher from his home state. Practicing social distancing, a staid Sanders sat alone in his chair while waiting for the program to start — and a new meme took off.
He's been photoshopped everywhere. Taking tickets at the local music venue? Check. Replacing Samantha in the new Sex and the City reboot? SJP says yes. Taking a breather on Mars because he is tired of corrupt billionaires and being caught in the tangle of their lies? Obviously.
But one meme genre stuck out the most: Sanders seated amongst some of humanity's most prized artwork. In a time when we can't visit art museums or smaller galleries, there's a soothing pleasure in seeing lionized creative genius splashed across your timeline — just spot the Bernie.