The Best Art World Films to Watch Now, From Arthur Jafa to Cindy Sherman
Design director Cian Browne shares his favorite films from the art world, including "Love is the Message, The Message is Death" and the 1974 documentary "A Bigger Splash."
---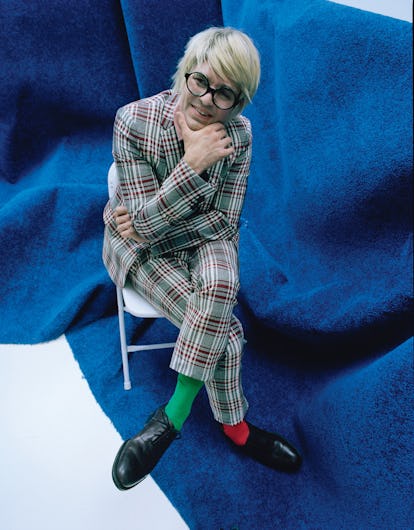 Welcome to the W Movie Club, a weekly series for which the magazine's editors pick five iconic films to watch while in quarantine. This week, design director Cian Browne shares a few of his favorites from the art world canon, including an Arthur Jafa masterpiece, a 1974 David Hockney documentary and a prescient clip from Rirkrit Tiravanija.
Love Is The Message, The Message Is Death by Arthur Jafa
Available on Ubu.
I saw this piece at Gavin Brown's Enterprise in 2016, and it had a very immediate and visceral impact on me—as it did with anyone I talked to who had seen Arthur's show. This past June, in a very timely act, several institutions and collectors joined together to stream it online for 48 hours. I watched it repeatedly over the course of that weekend, and then I discovered a talk that Arthur gave with Greg Tate at GBE discussing the work frame by frame. If you only watch one of the films in this list, make it this one.
Nobody's Here But Me, with footage by Cindy Sherman, originally aired on the BBC
Available on YouTube.
Cindy Sherman is an artist whose work consists of primarily photographic self-portraits. This early documentary shows her process, including references and inspirations. She also addresses the theme of sexuality during the AIDS crisis, as well as censorship in the United States in the late 1980s and early '90s. It's so rare to see an artist being this candid. (Cindy has also been a contributor to W, and her Instagram feed is pretty spectacular.)
Ai Weiwei: Never Sorry, Directed by Alison Klayman
Available on Amazon Prime.
I saw Ai Weiwei: Never Sorry when it came out and recently revisited it upon hearing that the artist was working on a new film about the pandemic in Wuhan. The documentary follows the artist over the course of a few years, during which his studio is demolished by the Chinese government, he is beaten by police, and eventually detained.
A Bigger Splash, Directed by Jack Hazan
Available on Amazon Prime
During quar, I have been reading a lot. One of the books I plowed through was David Hockney: The Biography, 1937-1975: A Rake's Progress in which the filming of A Bigger Splash is briefly mentioned. In this 1973 film, a sort of staged documentary, the camera follows Hockney, the incredibly famous painter, as he gets dumped, begins to drown in depression and loneliness, loses all his inspiration to paint—and then gets it back. (The piece that resulted from this return of inspiration, one of his most iconic works, sold for $90 million at auction in 2018.) It's an interesting look into the hedonistic life of an artist in the '70s, and caused a scandal when it was released because of a gay sex scene.
P.opular S.ky (section ish) by Ryan Trecartin
Available in full on YouTube.
I would be remiss to do a roundup of video art and not include a piece by Ryan Trecartin and Lizzie Fitch. I am not capable of properly (or improperly), describing this piece, or in general the work of these two, other than to say it is a frenetic, wild ride that I always enjoy as a bit of escapism.
Honorable Mention: Untitled 2009 (Pay Attention), by Rirkrit Tiravanija
Although the film is not available in full online, this short clip from the artist Rirkrit Tiravanija's 2009 movie Pay Attention is unfortunately timely.
The collector Julia Stoschek has begun sharing a selection of works from her collection online. There's some fun stuff in there, like Peas by Wolfgang Tillmans.
Craving more movie recommendations? Check out previous editions of W Movie Club:
Shayan Asadi's Favorite Meryl Streep Moments
Michael Beckert's List of Cathartic Queer Classics
The Films that Remind Sara Moonves of Her Favorite Shoots
Maxine Wally's Serious Drama Lineup (Plus Legally Blonde)
The Best New York Movies, According to Lynn Hirschberg
Brooke Marine's Nostalgia-Heavy List
Andrea Whittle's Favorite 90s Rom Coms and Artsy European Classics