This Bath Is No Joke
W's beauty director shares her latest indulgence.
---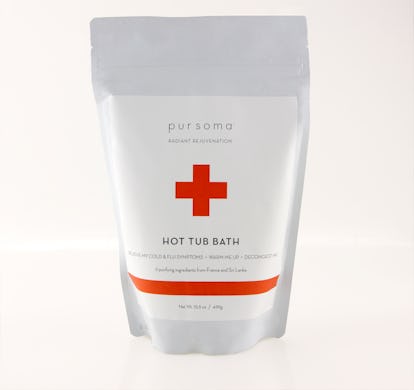 I am a staunch believer that practically anything can be cured (or at least, soothed) by getting into the tub. And so, when the ladies at Brooklyn's Shen Beauty turned me on to Pursoma's Hot Tub Bath—meant to quell colds and congestion—I couldn't wait to test it out on my own case of the sniffles. After stirring one envelope of salt and another of powdered clay into my bath with a wooden spoon, I slipped into the warm water for 20 minutes (15 minutes longer than usual), wrapped myself in a towel, and immediately got into bed. All of these steps, along with drinking 6-8 ounces of water before and after soaking, are included in the product's lengthy instructions for use, which, for once, I actually followed. Given the impressive results—I haven't sneezed since—I would recommend doing the same.