From a Dishy Fashion Memoir to a Delicious Startup Satire, Spring's Best Books Get Real
On our bookshelves this month: Joan Juliet Buck's The Price of Illusion, Doree Shafrir's Startup, and more.
---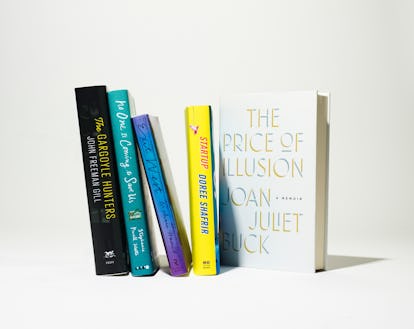 Josephine Schiele
There's a blurred line between fantasy and ­reality, and spring's most absorbing books ­examine the gray area from all perspectives. Dishy yet self-aware, Joan Juliet Buck's memoir, The Price of Illusion (Atria Books), traces the ­former Paris Vogue editor's ultimately ­soul-imperiling obsession with glamour and luxury back to her movie star–filled childhood, where appearance almost always trumped actuality. Griffin Watts, the protagonist of John ­Freeman Gill's The Gargoyle Hunters (Knopf), also grows up in a family obsessed with facades—in his case, literal ones. The vivid novel, set in crumbling 1970s New York, follows a teen and his father as they surreptitiously strip the city's buildings of their 19th-century architectural ­statues. The app entrepreneurs and social-media specialists who populate Doree Shafrir's deliciously detailed satire, Startup (Little, Brown and Company), inhabit a very different ­Manhattan: the booming tech community in which "Fake it till you make it" is a mantra and "­connectedness" has little to do with connecting. Meanwhile, Stephanie Powell Watts's No One Is Coming to Save Us (Ecco) offers a deeply evocative retelling of The Great Gatsby, set in the contemporary South. On the surface, the working-class citizens of a depressed North Carolina mill town might have little in common with the East Egg crew, but they're grappling with the same heartbreaking struggle to reconcile lifelong dreams with hard truths. Finally, Mohsin Hamid's Exit West (Riverhead Books) follows a migrant couple from an unnamed but eerily Aleppo-esque city as they're deposited directly into First World Europe through a system of mysterious portals. Spare and haunting, it's magical realism meets the all-too-real.