W Movie Club: Going Full Camp With Troop Beverly Hills
"Troop Beverly Hills," "Urban Cowboy," and "The Birdcage" are just a few of the movies that will provide enough laughs—and wild fashion—to satisfy.
---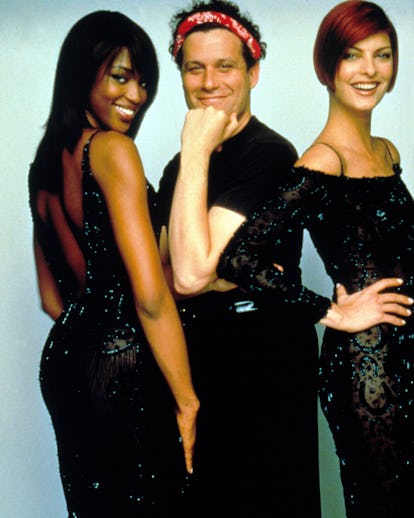 Photo courtesy of Moviestore/Shutterstock
Welcome to the W Movie Club, a series in which W magazine's editors pick five iconic films to watch while in quarantine. This week, senior accessories and jewelry editor Christina Holevas chooses her favorite fashion-focused and campy films from the 1980's and 1990's—to satisfy a need for nostalgia and fun in one go.
Urban Cowboy
Urban Cowboy tells the story of Buddy and Sissy, Texas lovers with absolutely perfect names. They marry young, spend their nights at the local honky-tonk, and get into a series of ridiculous, over-the-top quarrels concerning traditional gender roles, mechanical bull riding, and ex-convicts. It all sounds so wrong but it's just so right—trust me.
The Birdcage
Robin Williams and Nathan Lane give brilliant performances in this 1996 film, which centers a gay couple that owns a drag club in South Beach, Florida. When their son (played by Dan Futterman) proposes to the daughter of a Republican politician, he asks his parents to pretend to be straight. Chaos ensues. Birdcage is an instant classic with so many quotable lines. If you're not shouting, "I pierced the toast!," every time you butter your bread, then I humbly ask you to look at your life choices.
Troop Beverly Hills
Troop Beverly Hills is one of my all-time favorite movies. I caught it for the first time on cable when I was around the age of 12, and I have been fully obsessed ever since. The film features Phyllis Nefler, a recently divorced Beverly Hills socialite, who decides to become the den mother of her daughter's Wilderness Girls troop. It's fashion! It's camp! It's simply perfect.
Full Moon in Paris
What's better than an 80's movie—and a French 80's movie at that? Full Moon in Paris is a romantic comedy about Louise, a young woman who lives in the suburbs with her boyfriend but misses her single life, so she sets up a second home for herself in Paris. But in all honesty, the plot of the film is secondary to Louise's quirky yet perfectly Parisian wardrobe.
Unzipped
Unzipped, my absolute favorite fashion documentary, follows Issac Mizrahi as he prepares for his fall 1994 runway collection to be presented at New York Fashion Week. With drama, mayhem, characters, and cameos from all of the top 90's supers (Kate! Linda! Naomi! Cindy!), it makes me wish I had been around to witness this incredible period in the history of American fashion.
Related: W Movie Club: 1990s Thriller Fashion, and Gwyneth Paltrow