The Best Celeb Halloween Costumes of 2020
From Glenn Close to Bella Hadid, here are some of our favorites.
---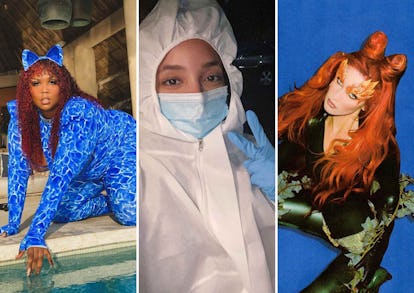 Courtesy of Instagram (@lizzobeeating, @tinashenow, @bellahadid)
The world may be in a state of semi-lockdown, but Instagram is still in full swing. So of course, the celebrities couldn't help but get dressed up for Halloween, even if they were only doing it for the 'gram. Homages to female rappers seemed to be a major trend this year, with certified Barb Lil Nas X perhaps winning the category with his tribute to Nicki Minaj's "Superbass" era. Female Batman villain costumes made a strong showing as well, with Bella Hadid as Poison Ivy and Normani as Michelle Pfeiffer's Catwoman. Heidi Klum, of course, went full out, even if we're not 100 percent sure how to describe her costume. Nicole Kidman gave a nod to her Practical Magic days. Though, perhaps it was Glenn Close who had the scariest costume. She went as a Diet Coke-swilling, McDonalds-binging Trump.
Here, our favorite celebrity costumes from Halloween 2020.
Lil Nas X as Nicki Minaj
Bella Hadid as Poison Ivy and a Lichtenstein Painting
Normani as Catwoman
The Weeknd as the Nutty Professor
Ciara and Russell Wilson as Janet Jackson and Busta Rhymes
Lizzo as a Wet Ass Feline
Emily Ratajkowski as Demi Moore
Tina Lawson as Morticia Addams
Tinashe as Responsibility
Kaia Gerber as Priscilla Presley
Heidi Klum as Something Extra
Tommy Dorfman as Athleisure Princess Diana
Rico Nasty as the Devil
Glenn Close as Also The Devil
Kulture as Wonder Woman
Janelle Monae as Chucky
Jaida Essence Hall as Aaliyah from Queen of the Damned
Angelia Ross as Kitana
Christina Aguilera as Alien Queen
Saweetie as Destiny's Child
Lili Reinhart, Madelaine Petsch, and Camila Mendes as The Powerpuff Girls
Kris Jenner as Jack Skellington
Nicole Kidman as a Practical Witch
Chrissy Teigen as Black Swan
Christian Siriano as Sia