Great Fashion Reads Recommended by Indie Booksellers
Feel like adding a few stylish titles to the pile on your bedside table? Peruse these recommendations from independent booksellers around the country.
---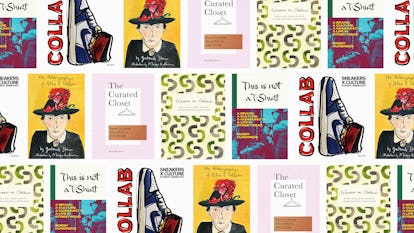 Feel like adding a little bit of stylish escapism to that pile of books on your bedside table? Us too. So we reached out to independent booksellers from New York City to Portland, Oregon for their recommendations in the realms of fashion history, photography, and personal style. Here, they share some of their favorites—from illustrated memoirs to niche streetwear tell-alls to shopping guides—all of which you can buy directly from them, or the authors's websites.
The Autobiography of Alice B. Toklas by Gertrude Stein with illustrations by Maira Kalman
"Paris, London, Barcelona, Mallorca in the early 1900's … Gertrude Stein gives us a front row seat to the artistic flourishing and wartime destruction of the era. Stein and Alice B. Toklas befriend Picasso, Matisse, Cézanne, Isadora Duncan, Nijinsky, and many more. Salons at their home on the rue de Fleurus, parties with artists in Montmartre—what could be more fashionable? Maira Kalman brings this world to life with the genius and joy of her beautiful illustrations. All this, and it's a love story."—Troy Chatterton, Manager at Three Lives & Company in New York City.
How to Buy: Their online store is still up and running at threelives.com (where they also offer gift certificates and subscriptions to their Book-A-Month Club.)
Women in Clothes by Heidi Julavits, Leanne Shapton, and Sheila Heti
"This book is a fascinating compilation. Hundreds of women answered questions about fashion, confidence, style, and the feelings, both positive and negative, that arise from clothing their bodies. Not your typical fashion book, this volume includes interviews, essays, poetry, photos, scans, and artifacts, and focuses much more on how personal history and experience influence how women dress themselves."—Emily Rankin, Bookseller at BookPeople in Austin, Texas.
How to Buy: Directly from bookpeople.com. For audiobooks, you can visit bookpeople.papertrell.com.
Bill Cunningham: On the Street edited by Tiina Loite
"A longtime New York Times columnist and photographer, Cunningham was known for taking unexpected and candid photographs of both famous and everyday people on the streets of New York City. His photos are collected here, organized by decade. Beautiful, surprising, and playful — this is street photography at its best."—Bryanne Hoeg, Sales Manager at Powell's Books in Portland, Oregon.
How to Buy: Powell's is still shipping from their online store, at powells.com
The Curated Closet by Anuschka Rees
"A perennial favorite and bestseller in our fashion section, Rees' strategies on shopping and styling are accessible and thoughtful. Interspersed with lovely, fresh photos, this book has great advice for anyone looking to develop a personal style and a flexible wardrobe."—Bryanne Hoeg
How to Buy: Powell's is still shipping from their online store, at powells.com
This Is Not a T-shirt by Bobby Hundreds
"A fascinating mix of memoir and business narrative by Bobby Hundreds, one of the founders of the streetwear brand The Hundreds. As someone who knows very little about streetwear, I was pulled in by the story of two men with plenty of ideas and verve, building a streetwear empire that has persevered and thrived."—Bryanne Hoeg
How to Buy: Powell's is still shipping from their online store, at powells.com
Wig Diaries by Mary Ladd
"Fashion is, perhaps, its most challenging when you are sick and don't have control over the ways your body is changing. With candor and dark humor, Mary Ladd tells us about living with and surviving cancer, and her process of reinvention aided by a number of divine wigs. Pink ribbon pins be damned!" — Stacey Lewis, VP, Director of Publicity, Marketing & Sales at City Lights Booksellers & Publishers in San Francisco.
How to Buy: City Lights is currently closed, but you can order directly from the author's web site.
Sneakers x Culture: Collab by Elizabeth Semmelhack
"Sneaker culture has always interested me deeply, as it feels adjacent (generationally, culturally, ideologically) to so many kinds of collection and curation that I've been attracted to over the years. However, as someone who wears through the soles of a pair of shoes before buying a new one, it was never something that I felt equipped to participate in. While far from a comprehensive guide, this book is a wonderful exhibit of the kinds of incredible collaborations that are happening between sneaker producers and artists all over the world. An easy way to collect without waiting in line."—Bryce Lucas – Manager, 57th Street Books (part of Seminary Co-op Bookstores) in Chicago.
How to Buy: Directly from semcoop.com
Related: Six Great Quarantine Reads, According to Ashleah Gonzales