W Movie Club: The Editors Recommend Their Favorite Films
Editor in chief Sara Moonves chooses her five go-to films—Including Yorgos Lanthimos's 2018 production The Favourite.
---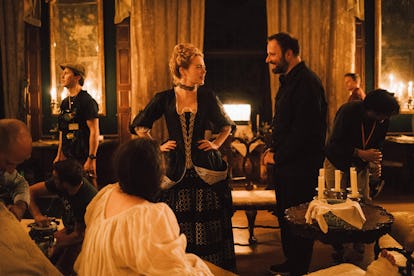 Photo by Atsushi Nishijima. © 2018 Twentieth Century Fox
Welcome to the W Movie Club, a new segment in which W magazine's editors pick five iconic films they'd recommend you watch while in quarantine—and beyond. This week, editor in chief Sara Moonves chooses her go-to's, including Yorgos Lanthimos's 2018 hit The Favourite, a production which holds special meaning and significance for her.
The Favourite
It's hard for me not to associate movies I love with pictures I did around the film. The Favourite always reminds me of one my personal favorite shoots ever—the one with Emma Stone and the director Yorgos Lanthimos. I saw The Favourite with our editor at large, Lynn Hirschberg, and from the point the credits rolled, we started planning the shoot. Yorgos was as inspiring and original in the role of a fashion photographer as he is a movie director. I loved the film so much, especially brilliant Emma and the incredible costumes by Sandy Powell, whom I also had the pleasure of working with. Quarantine has been a great time to watch movies I love and remind me of all the amazing people I have gotten to work with along the way.
Watch it on Amazon Prime, Google Play, and YouTube.
Groundhog Day
Around day 16 of staying at home was when we thought it was the appropriate time to watch the Bill Murray classic. It was as good as I remembered, and something we can all relate to right now.
Watch it on Netflix and iTunes.
Empire Records
I think I watched Empire Records 90 times in high school, but hadn't seen it since. Liv Tyler in her perfect plaid kilt, and Renée Zellweger seducing Rex Manning—it was fun to revisit an old favorite.
Watch it on Amazon Prime and YouTube.
A Bigger Splash
I needed a bit of an escape after one long, hard day and watching Luca Guadagnino's films are great at providing just that. I spent a perfect week last summer in Pantelleria, Italy, where A Bigger Splash takes place. The film reminds me of my friends Fran and Angelo—whom we travel with every summer—and dreaming of where our next adventure will be. I think to turn off the news and watch a movie that takes you back to one of your favorite places is great for sanity right now.
Watch it on Cinemax and Google Play.
Lost in Translation
One of my favorite films, and a reminder of all the amazing trips I have been lucky enough to take in Tokyo. It reminds of all the late karaoke nights and my great friends, who I am missing a lot right now.
Related: Emma Stone Stars as a Suburban Dog Lady, Directed by Yorgos Lanthimos