Eau de Fancy
W's beauty director shares her favorite holiday scents.
---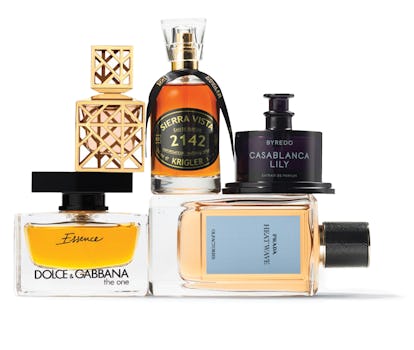 For me, dressing up isn't just about the dress. I also swap my everyday scent for a special-occasion one. Here's what I'll be spritzing this holiday-soiree season (right, clockwise from top left):
Tory Burch Perfume ($325, toryburch.com): Vetiver, one of my favorite grassy notes, gets gussied up with elegant neroli and tuberose.
Krigler Sierra Vista 2142 ($230, krigler.com): This cedar, sandalwood, and jasmine blend is the fragrance equivalent of a cashmere gown.
Byredo Casablanca Extrait de Parfum ($550, byredo.com): Gardenia, carnation, and tuberose make a grand entrance in this intensely concentrated scent.
Prada Olfactories Heat Wave ($300, at select Prada stores, 212-334-8888): A hint of beach meets the floral notes of ylang-ylang, tuberose, and frangipani. (Think Christmas in St. Barths.)
Dolce & Gabbana the One Essence ($115, saks.com): This bergamot, citrus, and amber creation is as warm and glowy as a candlelit dinner.
Still lifes: Josephine Schiele