The Best Alternative Art Galleries in Los Angeles
From Mark Bradford's sprawling campus to a roaming art-filled cookout, take an insider tour of the city's unorthodox galleries and exhibition spaces.
---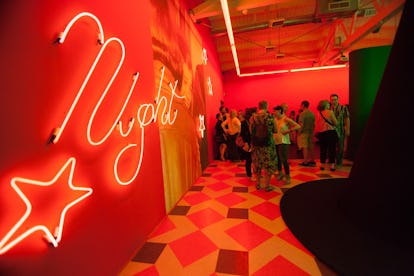 Natalie Hon
Chalk it up to the city's affordable square footage, the promise of a subway line, or the sunny quality of life for artists, but the gallery scene has been exploding in L.A. And while powerhouse, moneyed international galleries like Hauser & Wirth have rushed in to open up outposts close to West Coast collectors, there are still alternative art spaces popping up all over town that are keeping things loose, weird, and wild. Here, a guide to the scene's current crop.
BBQLA The success of BBQLA might be best measured in hot dogs: Owners Adam Beris, Timo Fahler, and Thomas Linder joke that they could barely give away food at the first edition of their "migrating installation," but their year-anniversary show earlier this month drew a crowd so large that 200 dogs went within the first half hour. Barbecuing is a tradition the trio, all artists who first met at Kansas City Art Institute, started upon finding they'd all relocated to L.A., holding weekly cookouts that often coincided with art shows in Beris's backyard in Silver Lake. Last year, they made that pairing official and started hosting one-night openings, showcasing local artists with big names, like Jonas Wood and Mary Weatherford. The exhibitions still travel (look out for migrations to Mexico City and Berlin in the future), but now they also have a home at BBQLA's permanent installation space in the Flats.
Art + Practice Mark Bradford is becoming quite a presence in Leimert Park, and not just because the artist – who will represent the U.S. next year at the Venice Biennale – is 6'8": The complex of buildings now occupied by his nonprofit Art + Practice is so sprawling, his team refers to it as a "campus." Many of the spaces, like an Art Deco movie theater and his mother's former hair salon, are still under construction, but some are already open for business, like a gallery shared with the Hammer Museum, currently hosting an installation by Philadelphia artist Alex Da Corte. The foundation's real aim, though, is to support local artists – and the neighborhood's foster youth, who, thanks to a partnership with the RightWay Foundation, will be able to go to the foundation for housing resources and GED prep, not to mention free art events and classes.
356 S. Mission Rd. The former printing press and piano storage facility that hosts 356 S. Mission Rd. is so expansive that founders Gavin Brown, Laura Owens, and Wendy Yao originally intended it not only for exhibitions, but also for studio space. Working in-house is no longer a requirement, but there's still plenty of breathing room: In addition to a main hangar-like space, currently draped with a commercial backdrop from Lutz Bacher, and a basement gallery, which recently hosted a show by Susan Cianciolo, there's a branch of Yao's beloved Chinatown store Ooga Booga on the premises. (There are also two communal tables: one inside for afternoon tea, and another out back where artists from the studios next door get together for lunch.)
Commonwealth & Council The artist and curator Young Chung first started Commonwealth & Council in 2010 out of his apartment at the corner of, well, Commonwealth and Council. After his landlord shut things down, Chung packed up and moved back to Koreatown, where he grew up, reopening the gallery in an office building upstairs from a Korean church, on the same floor as the oldest Latino Alcoholics Anonymous. So far, he's done over 100 shows featuring a diverse array of artists (many are queer or people of color) like Jennifer Moon and Alice Könitz, who both went on to win the Hammer Museum's Mohn Award at its first biennial. The gallery's original name remains, and the vibe is still homey: There's a kitchen-like back area complete with an artfully exposed wall of the fire damage left by the space's previous tenants.
Visitor Welcome Center Commonwealth & Council got a new neighbor this January when the artist David Bell opened up Visitor Welcome Center just down the hall. Bell's also a writer – he just published an essay book and runs the art critical site Notes on Looking – and he's keeping things literary at the new space, hosting readings, bringing out zine accompaniments to exhibitions, and even showing a writing critique group as Visitor's most recent exhibition. With seven shows a year, though, Bell's has plenty to explore: Later this month, the space is getting a shower installation, plus a wunderkammer of gifts the artist Kim Ye has received in her work as a dominatrix.
Château Shatto Since Australian Olivia Barrett and her partner Nelson Harmon first opened up Château Shatto in downtown L.A., the area's become flooded with other galleries. When they opened up in 2014, though, they were among the first to put on thoughtful exhibitions among the warehouses, many including the six artists they now represent, like the internet-minded Parker Ito (Barrett's boyfriend) and the New York-based duo Body by Body. Still, Barrett and Harmon have kept things loose: The press materials are still peachy pink, and they still host brunch openings.
Jenny's Jenny Borland and Matthew Sova first met working at the nonprofit Artists Space in New York, but after the pair picked up and moved out west, they launched Jenny's in 2014 in a former office on Sunset Boulevard between Silver Lake and Los Feliz. Recent solo shows include Mathieu Malouf – the painter and sculptor they first threw the gallery together to exhibit – and Liz Craft, whose eerie mannequin creations are also on view back East, at the Whitney Museum.