In Honor of QEII's Birthday, the Best Films About British Queens
From the first Elizabeth to the current.
---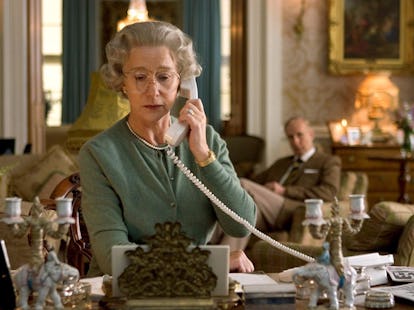 "Famous have been the reigns of our queens," Winston Churchill once said upon the coronation of Queen Elizabeth II. "Some of the greatest periods in our history have unfolded under their sceptres."
It is also true that some of the greatest movies made about British royalty have also centered on their queens. Playing one of Britain's female monarchs has become a career-cementing milestone for a certain type of respected actress, and quite often a ticket to an Oscar nomination, if not a win.
So, on Elizabeth II's birthday, what better time to coronate yourself as a royal film historian by streaming the best portrayals of British queens?
Bette Davis as Queen Elizabeth I in The Private Lives of Elizabeth and Essex (1937) and The Virgin Queen (1955).
Private Lives available on IndieFlix.
Bette Davis considered Queen Elizabeth I one of the most intriguing women in history, was a vociferous reader of Elizabethan history, and played the monarch twice on screen during her career. The first, 1937's The Private Lives of Elizabeth and Essex, is probably the finer movie, though it comes with some juicy behind-the-scenes gossip (Davis thought her costar Errol Flynn was a lazy actor, and desperately wanted Laurence Olivier instead). The second, however, pairs Davis with an iconic diva named Joan: a very young Joan Collins in this case, playing a handmaiden in her Hollywood debut. Shot in grand color, it's certainly the prettier of the films. Davis was never under the illusion that she was portraying Elizabeth as a young beauty in either movie, but in The Virgin Queen her costumes and makeup especially toe the line between opulence and the grotesque.
Judi Dench as Queen Victoria in Mrs. Brown (1997) and Victoria & Abdul (2017).
Mrs. Brown streaming on BritBox, Victoria & Abdul available on Cinemax.
Two quick things we always forget about Judi Dench:
1. Few outside of PBS devotees and Anglophiles in America knew who she was until she was cast as M in the James Bond film at 60 years old.
2. While she famously has her (only) Oscar for appearing onscreen as Queen Elizabeth I in Shakespeare in Love for all of 8 minutes, but she's spent far more time playing Queen Victoria.
1997's Mrs. Brown saw Dench playing a recently widowed Victoria taking up a romance with one of her late husband's servants, and was the first time Dench scored major American awards nominations. She followed her portrayal up recently in the unofficial sequel Victoria & Abdul.
Cate Blanchett as Queen Elizabeth I in Elizabeth (1998) and Elizabeth: The Golden Age (2007).
Both on Netflix.
Some actresses have to build up quite the résumé before landing a queenly role. Cate Blanchett launched her international career with one. Largely unknown outside of Australia, Blanchett played a young Elizabeth, racked up quite a few nominations, and promptly shot to stardom. About a decade later she'd return for a sequel.
Helen Mirren as Queen Elizabeth II in The Queen (2006)
Streaming on Hulu.
Long before Peter Morgan created The Crown, he first played a part in dramatizing QEII onscreen as the screenwriter of 2006's The Queen. While The Crown breezes through decades, The Queen concentrates on the monarch's immediate private response to the death of former daughter-in-law Princess Diana. Helen Mirren's portrayal went on to win her an Oscar.
Margot Robbie as Elizabeth I in Mary, Queen of Scots (2018) or Glenda Jackson as Elizabeth I in Mary, Queen of Scots (1971)
1971 version streaming on Hoopla (through some library memberships), 2018 version streaming on Hulu.
Elizabeth I is a legendary queen, but she did keep her cousin in prison for 18 years before ultimately executing her. The two queens' rivalry has been dramatized on film twice. The first with Glenda Jackson facing off against Vanessa Redgrave, and more recently with Margot Robbie and Saoirse Ronan.
Olivia Colman as Queen Anne in The Favourite (2018)
Streaming on Hulu.
Queen Anne reigned for a rather respectable 12 years, and was the first monarch to rule over a politically unified England and Scotland. However, she's never quite caught the imagination of dramatists like Elizabeth I and Victoria. One of her most notable onscreen portrayals was by a man in the rather ribald '80s British comedy Yellowbird. That lack of interest in Anne left the door open for director Yorgos Lanthimos's slightly skewed take on the monarch in 2018's The Favourite. Though much dramatic license is taken, Olivia Colman plays Anne equally interesting as Liz and Vic, if not anywhere as noble.