Goodfellas and Legally Blonde: W Editors Pick Their Favorite Films
Plus, "A Brighter Summer Day," "There Will Be Blood," and "A Serious Man."
---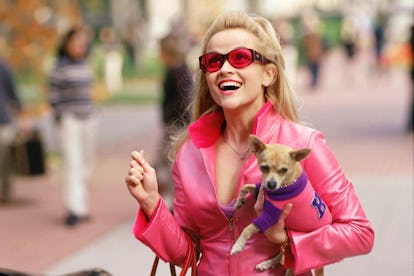 MGM/Everett Collection
Welcome to the W Movie Club, a new series in which W magazine's editors pick five iconic films they'd recommend you watch while in quarantine. This week, senior digital editor Maxine Wally shares a list of all-time favorites, some of which inform the story of her own life.
Goodfellas
Stream it on Netflix.
If I was forced to choose my one and only favorite movie, forever until the end of time, it would be Goodfellas. I first saw the Martin Scorsese classic when I was 11 (in retrospect, that was a bit young, given the subject matter. But my parents were always down to expose me and my sister to all kinds of art.) Every time I've watched it since, I've felt the same awe and reverence for the impeccable narration, camera work, and editing. Each scene is memorable: Paulie Cicero, played by Paul Sorvino, sitting in a prison cell, slicing garlic with a razor blade, telling Vinnie not to "put too many onions in the sauce"; Ray Liotta as Henry Hill and Lorraine Bracco as Karen Hill at their wedding, watching people line up to hand them envelopes filled with money; Karen traveling to Henry's mistress's apartment and slamming the buzzer with the palm of her hand. But for some reason, this scene keeps me rapt every time it flashes onto the screen. It's dramatic storytelling at the highest level.
A Brighter Summer Day
Stream it on Amazon Prime or YouTube.
Edward Yang's four-hour cinematic masterpiece is right up there with The Godfathers and Citizen Kanes of the world, but does not get the recognition it deserves. The coming-of-age story centers around a teenage boy living in 1960s Taiwan, where many Chinese nationalists had fled from mainland China after a civil war defeat in 1949. The movie is, at its core, a love story, but it's also a glimpse into adolescent search for guidance, Western culture proliferating in Taiwan, a country grappling with an unpredictable socio-political future, and the street gangs of military brats. I have yet another personal tie to this narrative—my grandfather was a general in the nationalist army led by Chiang Kai-shek, and my mother was, herself, a military brat. (No word on whether she was in a street gang, though.) A Brighter Summer Day explained so much about my aunts and uncles's personalities to me, and offered a window into my heritage that I wouldn't have been able to experience otherwise.
A Serious Man
Stream it on Netflix
This is my favorite Coen brothers movie. Yes, I said it. A Serious Man is the most honest portrayal of Joel and Ethan Coen's nihilistic tendencies, their very culturally Jewish sense of humor. It taught me more about my Jewish relatives than any other cultural touchstone I've encountered. The plot revolves around Michael Stuhlberg, in the role of a professor on the verge of getting tenure. His marriage is falling apart, his son is a pothead readying himself for a bar mitzvah, and his brother, played by Richard Kind, won't leave the bathroom, where he's tending to a sebaceous cyst. Meanwhile, Stuhlberg is looking for the meaning of life and death—but his rabbis speak in circular platitudes, and he can't seem to catch a break. This hilarious, dark comedy is worth a watch, especially now.
There Will Be Blood
Stream it on Netflix.
The themes of greed, wealth, and good vs. evil in this Paul Thomas Anderson-directed epic will never lose relevance. There Will Be Blood, after all, is about human nature. Daniel Day Lewis stars as an oil prospector who uses everyone around him for personal gain, including his adopted son HW and their new neighbors in a California town. Lewis comes across a revival minister who suspects his wrongdoing, leading to a years-long feud. Jonny Greenwood's heart-pumping soundtrack is an ideal match for the anxiety inducing storyline, and when I say that I stan Daniel Day Lewis in this role…I mean it.
Legally Blonde
Stream it on Google Play and Amazon Prime.By this point, you might be able to tell that my personal filmic inclinations lean toward serious dramas with intense plot lines. To prove that I am a layered individual, I give you my fifth pick: Legally Blonde (the first one, and the first one only—let's be clear). In 2001, my family bought a DVD player, and the initial DVD for the machine was Legally Blonde. I must have watched this movie a hundred times, playing the opening scene with Hoku's "Perfect Day" blasting over and over.
Elle Woods, played by Reese Witherspoon, is the complete antithesis of me: I am not blonde, I'm not from Southern California, and if, in college, I tried to join a sorority, they'd probably ban me for life right out the gate. But I understand her fish-out-of-water story, a West Coast girl misunderstanding the rigid codes of the tony Northeast. And the feminist message behind the storyline is empowering and endearing. You end up rooting for her.
Related: W Movie Club: The Editors Name Their Favorite Films to Watch Now