W Movie Club: The Editors Name Their Favorite Films to Watch Now
Lynn Hirschberg's New York City-centric picks include "Desperately Seeking Susan," "American Gangster," and Martin Scorsese's "King of Comedy."
---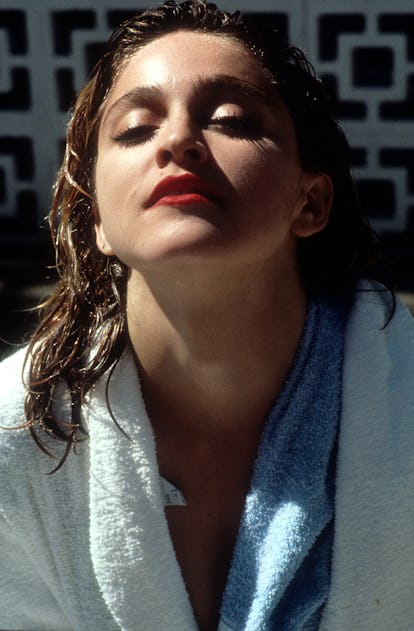 Getty Images
Welcome to the W Movie Club, a new segment in which W magazine's editors pick five iconic films they'd recommend you watch while in quarantine—and beyond. This week, editor at large Lynn Hirschberg chooses her go-to's, which all take place in New York City—one of the areas hit hardest by the coronavirus pandemic.
I decided to devote my list to films about wonderful, complicated and once thriving New York City, the epicenter of the pandemic.
Desperately Seeking Susan
My first pick is Desperately Seeking Susan, a vision of Manhattan in all its possibilities. I love, love, love Madonna in the film—she struts around the East Village like a sexy, entitled emperor. Also, Mark Blum, who is terrific as Rosanna Arquette's philandering husband, died last week of complications from the coronavirus. Celebrate him and a glorious vision of NYC in the '80s.
Watch it on Amazon Prime.
King of Comedy
I could have picked two other brilliant Scorsese films—Mean Streets or Age of Innocence—but King of Comedy is a dark and strange meditation on aspiration and fame. While I stay at home in muted hibernation, alarming traits strike me as fascinating. If you aren't riveted by Sandra Bernhard as a crazed fan doing a striptease or Robert De Niro following Jerry Lewis down a busy New York street (by the way, check out The Clash's cameo!), you may have to check your pulse.
Watch it on Google Play and YouTube.
American Gangster
I just love the way Denzel Washington walks! He commands the screen like a bigger-than-life STAR. In American Gangster, he plays Frank Lucas, who was the drug kingpin of Harlem throughout the '70s. Washington is riveting throughout—and no one wears an ermine fedora with more panache.
Dog Day Afternoon
Based on a true story, this film from the '70s is about a bank heist gone terribly wrong. Al Pacino, in a thrilling, heartbreaking performance as Sonny is attempting to steal money to pay for his partner's gender confirmation surgery. Dog Day Afternoon depicts NYC at both its most chaotic and compassionate.
Watch it on Amazon Prime and YouTube.
The Band Wagon
Pure Bliss. Fred Astaire plays a fading movie star who travels east from Hollywood to New York City to reinvent himself on Broadway. Along the way, he finds love, happiness, and he gets to dance with Cyd Charisse, who has legs for days. I so want to dance down the street right now (metaphorically) and, until the quarantine lifts, The Band Wagon will have to supply that sense of joy.
Watch it on Amazon.
Related: W Movie Club: The Editors Recommend Their Favorite Films