What to Watch, Binge and Listen to in April
From The Handmaid's Tail to new Kendrick Lamar, here's what to keep an eye (and ear) out for in April.
---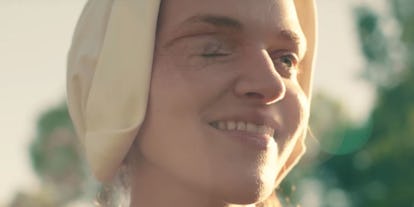 In this special monthly edition of our In & Out newsletter, we're looking a full month ahead and sorting through the cultural calendar for you. Here's our picks for what you'll need to consume to keep up with polite dinner party conversation, what you'll be secretly binging late at night, and what's best to just avoid.
To sign up for this newsletter click here.
What You Need to Know:
Television: Hulu continues to try and step it up with an adaptation of Margaret Atwood's beloved novel **_The Handmaid's Tale_ on April 26th. The trailer for the dystopian series certainly makes it seem chillingly appropriate for our times. Meanwhile, Showtime is prepping _Guerrilla for April 16th, a limited series about black activists in '70s London with Idris Alba and Freida Pinto. Meanwhile, the third season anthology series Fargo_ **premieres on FX on April 19th. Early word is that Carrie Coon may be Nicole Kidman's (Big Little Lies) biggest Emmys threat. Ewan McGregor meanwhile joins the cast in not one, but two separate roles.
Music: Both the title and release date of Kendrick Lamar's next album remain unconfirmed (the tentative details are that it's called ALBUM **and will be released on the 14th), but the follow-up to To Pimp a Butterfly is one of the most hotly anticipated new releases of the year. The most random rumor: it may include a collaboration with U2. Meanwhile, Kanye West and Björk collaborator Arca's latest self-titled disc dropped on Friday to rave reviews. Same for Father John Misty**'s latest, Pure Comedy.
Film: The Lost City of Z, the story of a real-life explorer who went into the Amazon to find a long lost city and was never seen again, made a splash last year at the New York Film Festival, and finally rolls out to theatrical release on April 14th. Some are already calling James Gray's film the best movie of the year. Charlie Hunnam, Robert Pattinson, Sienna Miller, and reigning Spiderman Tom Holland star, and the film has something of a literary pedigree because it's an adaption of the book by David Grann, the adored New Yorker writer. Though no one has seen it yet, we have high hopes for dystopian thriller The Circle, which opens April 28th. It stars Emma Watson in a sort of Beauty and the Beast tale, as a tech company worker who rebels against her cult leader-like CEO.
Theater: In the interest of cultural completism, we should note that the highly anticipated revival of Hello, Dolly! with Bette Midler in the lead role officially opens on April 20th. It will, at least for a while, overtake Hamilton as Broadway's hottest ticket, and is widely expected to win Midler her first competitive Tony. Unless, of course, Christine Ebersole or Patti LuPone, both starring in **[War Paint**](http://www.wmagazine.com/story/feud-bette-and-joan-tackling-female-rivalry-trump-era) (which just opened on April 6th) have anything to say about it. On the drama side of things, you can catch the interesting experiment of Laura Linney and Cynthia Nixon switching off roles every two performance in Little Foxes at the Samuel J. Friedman Theatre when it open April 19th. It is most certainly is Tony-seeking season.
What You'll Actually Enjoy:
Television: Netflix's Girlboss drops on April 21st. It's a loosely fictionalized version of Nasty Gal founder Sophia Amoruso's rise from eBay seller to e-commerce magnate. Whether Nasty Gal's eventual bankruptcy makes it into the series remains to be seen, but the trailer makes it look delightful. It's an obvious must for the types who will miss Girls too much. Incidentally, supermodel Karlie Kloss is a correspondent for Bill Nye The Science Guy's new show, which premieres the same day on Netflix. Great News, which counts Tina Fey as a producer and Nicole Richie as a cast member, premieres April 25th on NBC. In other news, tons of other beloved series all return with new seasons this month: Veep, Angie Tribeca, Better Call Saul, Pretty Little Liars, Dr. Who and Silicon Valley.
Film: It's a slow month for wide release crowd pleasers ahead of the start of summer blockbuster season, but if you're looking for something breezy but different, How To Be A Latin Lover seems like fun. It stars Eugenio Derbez, one of Latin America's biggest stars, in his Hollywood leading man debut as an aging heartthrob who has made a career of marrying much older women for their money only to get swerved when his latest octogenarian wife dumps him for a younger man. Salma Hayek, Rob Lowe, Kristen Bell and Raquel Welch also star, which means it almost certainly at least has to be better than Deuce Bigalow. It premieres April 28th.
Music: Feist, Gorillaz and Mary J. Blige all return with long awaited new albums on April 28th, and surely one of those will do it for you.
What You Can Ignore:
Film: Grumpy Old Men, the Sunshine Boys, various films starring John Travolta in ill-fitting leather jackets. No, Hollywood, has not yet tired of the geezer genre, and this past Friday another one opened called Going Out in Style, starring Morgan Freeman, Michael Caine and Alan Arkin, who have each starred in their own Old Guys Pulling Hijinks films in the past. As if things couldn't get any worse, the film is directed by Zach Braff. Is Katherine Heigl low-hanging fruit at this point? Well, she's not helping things. She stars in another genre from a bygone era—the crazy catfight thriller. We're surprised to see Rosario Dawson co-starring in Unforgettable, a title that's already a set-up to an easy punchline, because she usually has a better sense of these things; the film opens April 21st. Sandy Wexler, Adam Sandler's latest film in his Netflix deal, drops on the 14th. Apparently enough people are watching these to warrant Sandler to sign on for four more.
Music: Sorority mixer soundtrack artists The Chainsmokers' first proper album Memories…Do Not Open came out on Friday. Some are already wondering if it may indeed be the worst album of the year and it's only April. Probably best to take those speculators' word for it.
Related: How Pop Culture is Tackling Female Rivalry in the Lean In and Trump Era
See What's Trending in W Video: