All the Moments You Missed From New York Fashion Week
What no one was talking about.
---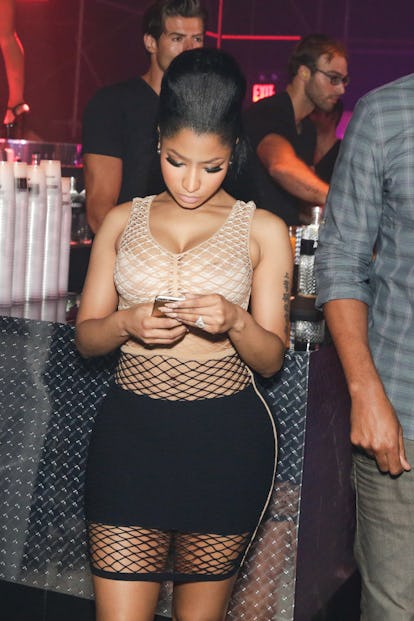 It's impossible to keep up with New York Fashion Week—so many designers showing, so many Instagrams and tweets to follow, so little time. Not to mention all the parties, after parties, and after-after parties. Here are the moments you may have missed.
1. Nicki Minaj looked pretty bored at Alexander Wang's 10th anniversary party. Or maybe she was just sick of waiting for Lil Wayne and Ludacris to take the stage.
2. At one point, Hooters waitresses (actual employees of the Madison Square Garden location) stopped serving buns at the Alexander Wang party, perhaps in deference to the gluten-free contingent in the crowd.
3. Lee Daniels wore furry Gucci slippers—a street style favorite this season—to the Saks Fifth Avenue Empire event.
4. Thom Browne's models passed notes notes during his schoolhouse runway show. One said "I'm late for…"
5. Candice Swanepoel took a dive on the Givenchy runway. More importantly, she got back up.
6. DKNY's Instagram grid made it to the runway in the form of a printed dress.
7. A man with a [Pokemon ball tattoo](http://www.wmagazine.com/parties/2015/09/new-york-fashion-week-best-parties-2/photos/slide/26%208. Nanette Lepore REALLY needs a phone charger.) made an appearance at the after party for Jeremy Scott's documentary premiere. But he was pretty tame in comparison to the rest of the crowd.
8. Nanette Lepore REALLY needs a phone charger.
9. Bella Hadid and Emily Ratajkowski rode the R train home after walking in Marc Jacobs's show.
10. Le21eme captured this jarring juxtaposition outside Hood by Air. With that, it's off to London!