Best Performances
Our 39 nominees take on the most refreshingly original roles of their careers.
---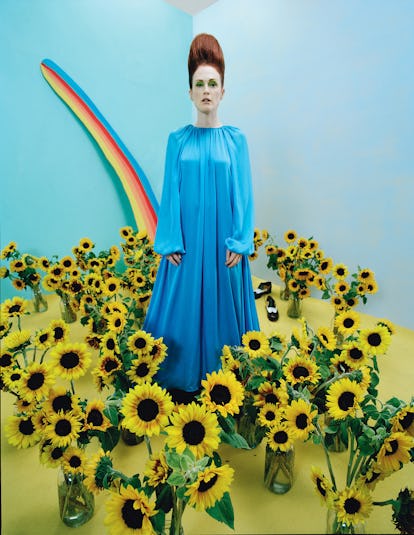 With the exception of movies about comic book heroes like Captain America and Spider-Man, as well as The Hunger Games, with its * Katniss Everdeen, nearly every film—especially those in the holiday "prestige" season—was based on the life of a real person. Audiences looking to encounter new characters and nonhistoric narratives had to tune in to premium cable television. On the big screen, Eddie Redmayne was stunning as the genius physicist Stephen Hawking; Reese Witherspoon was courageous as Cheryl Strayed, who walked more than 1,000 miles along the Pacific Crest National Scenic Trail after her mother's death; and Benedict Cumberbatch was riveting as the largely forgotten Alan Turing, the brilliant mathematician and cryptanalyst who helped end World War II and whose Turing machine was a precursor to the modern-day computer. Real people were also brought vividly to life by Amy Adams (as the artist Margaret Keane, who created the Big Eyes paintings in the 1960s), Bradley Cooper (as Chris Kyle, the most accurate sniper in military history), and Steve Carell (as John E. du Pont, the American chemical-company heir who collected Olympic wrestlers and may have been insane). The list of last year's epic male roles goes on: David Oyelowo as Martin Luther King Jr.; Timothy Spall as J.M.W. Turner, the English landscape painter. Even [Boyhood,*](http://www.wmagazine.com/people/insiders/2014/04/ellar-coltrane-boyhood/) the fascinating film made over a period of 12 years that traces the life of a child from age 6 to 18, has the feel of an artistic reality show—the power of the work is in its docudrama veracity.
There were, of course, some notable exceptions to the maelstrom of characterizations straight out of the history books. In Birdman, Michael Keaton appeared as a version of himself—a once successful actor who played a caped crusader—and he, Edward Norton, and Emma Stone all shine in this backstage drama about the complex connection between ego, ambition, and creativity. Miles Teller and J.K. Simmons are locked in a different version of that emotional battle in Whiplash, about an aspiring jazz drummer and his sadistic teacher. Like Birdman, Whiplash has a larger message about the search for excellence and its cost. And, in A Most Violent Year, Oscar Isaac embodies a new version of the immigrant story. As a self-made businessman out to achieve the American Dream of wealth and status, he attempts to be civilized and to keep his violent tendencies in check. That proves to be nearly impossible.
Isaac's character is aided by his savvy wife, played with sly intensity by Jessica Chastain. It should be noted that finding an original, intelligent, intuitive, lively female character in 2014 was like coming across a unicorn. There were very few exceptions to the stock character wife who cradles a baby in her arms as she tells her leading man, "Whatever you think, honey." Defying the stereotypes were the great and subtle Marion Cotillard as a factory worker fighting for her job in Two Days, One Night, Scarlett Johansson as an alluring alien in Under the Skin, and the brilliant Julianne Moore as an early-onset-Alzheimer's victim in Still Alice. It can't be a coincidence that two of those films are foreign and one was made independently.
This combination of severely limited female roles and overwhelmingly serious film biographies may have contributed to the sense of abandon that seemed to possess the 39 actors and actresses chosen for this portfolio. The photographer Tim Walker was influenced by the colorful, sun-drenched Los Angeles paintings and photographs of David Hockney, as well as the '70s free-love aesthetic that informs the artist's work. From there, the photographic scenarios took cues from Federico Fellini and, naturally, Walker's own unique perspective. Remarkably, all the actors and actresses were excited to play, to be transformed, to embrace personae that were extreme, odd, and truly fascinating. Perhaps therein lies a message for Hollywood: History is safe, but surprise is thrilling. In 2015, please give these actors new worlds to conquer.
Set Design by Simon Costin at CLM. Produced by Jeffrey Delich. Production Manager: Steph Broom. L.A. Production: Meghan Gallagher and Jane Oh at Connect The Dots. Photographic Manager: Emma Dalzell. Photography assistants: Keith Coleman, James Stopforth, Max Cornwall. Lighting assistant: Scott Froschauer. Makeup assistant: Rachel Singer Clark. Hair assistant: Ryan Mitchell. Fashion assistants: Clemence Lobert, Sam Walker, Sergio Meja. Grooming for Edward Norton by Sonia Lee for La mer at Exclusive Artists Management. Grooming for Chadwick Boseman by Saisha Beecham at Cloutier Remix. Makeup for Reese Witherspoon by Molly R. Stern at Starworks Artists. Special thanks to Michael Osborn, Karuana Karmarkar, Rebel Scenery, Cooper Montgomery.