Best Performances
2015 was a year of breakthroughs, return engagements, and happy endings.
---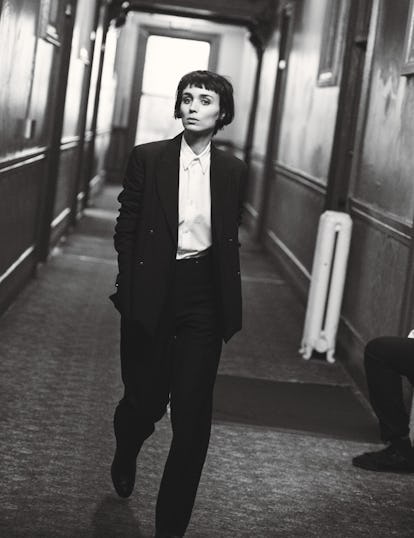 In 2015, the world was in turmoil, and Hollywood was looking for a happy ending. Whether the topic was sexual identity (Rooney Mara and Cate Blanchett in the midcentury lesbian love story Carol; Mya Taylor and Kitana Kiki Rodriguez exploring L.A.'s transgender underworld in Tangerine) or post­apocalyptic politics (Charlize Theron in the manic epic Mad Max: Fury Road) or immigration (Saoirse Ronan and Domhnall Gleeson in the wonderfully old-fashioned Brooklyn), almost all of the movies last year ended on a positive, romantic note. Wrongs were righted in Spotlight, which took on the abuses in the Catholic Church. And even murkier films like Sicario, which costarred Benicio Del Toro in a story about the unwinnable Mexican drug wars, or The Hateful Eight, Quentin Tarantino's savage snow Western, celebrated vivid moments of triumph.
Tarantino's mélange of violence and humor generated one of the greatest characters of the year, Daisy Domergue, a spitfire played with devilish intensity by Jennifer Jason Leigh. The actress was in good company: 2015 was, finally, a very strong year for female roles. Brie Larson was riveting as the trapped mother in Room; Carey Mulligan was inspiring as an early activist in Suffragette; and Alicia Vikander, who surely had the most varied repertoire of any of her peers, was a hypnotic android (Ex Machina), an unflappable World War I nurse (Testament of Youth), and the confused, loyal wife of a transgender woman (The Danish Girl).
Vikander's Danish Girl costar, Eddie Redmayne, was both subtle and haunting as Lili Elbe, a sex-change pioneer. In 2015, Redmayne was awarded the best actor Oscar for his portrayal of Stephen Hawking in The Theory of Everything, and that win seemed to herald the emergence of a new generation in Hollywood. With an affecting performance as the young and tormented Brian Wilson in Love & Mercy, Paul Dano made the transition from character actor to leading man. Seth Rogen, meanwhile, departed (briefly) from comedy to embody the computer geek and Apple cofounder Steve Wozniak in Steve Jobs. Similarly, stand-up comedian Amy Schumer had a star-is-born moment with her autobiographical film Trainwreck, and Kristen Wiig proved to be a remarkably versatile actress, as a pathologically narcissistic lottery winner in Welcome to Me and as the somewhat lost mother of a 15-year-old in The Diary of a Teenage Girl. Bel Powley, who played Wiig's adventurous daughter in that film, and Saoirse Ronan, who was torn between two men and two countries in Brooklyn, were luminous and thrilling. Both women have acted professionally—and very successfully—since they were children, but this was their breakthrough year.
There was also a reemergence of more-seasoned actors. As a domineering diva, Jane Fonda nearly stole Youth, the story of a composer who is facing his own mortality, portrayed with sorrow and grace by Michael Caine. Richard Gere hid in plain sight as a homeless man in Time Out of Mind, and Peter Sarsgaard explored the boundaries of human nature in ­Experimenter, an unorthodox biopic about the social psychologist Stanley Milgram.
And that's just the beginning. On the following pages, we spotlight 31 performers who achieved an extraordinary mix of the unique and the universal. These portraits, which were shot in Los Angeles, New York, and London, are revealing and evocative character ­studies—movies unto themselves.
Hair by Odile Gilbert. Makeup by Stéphane Marais.
Digital Technicians: Shaina Fishman, Amelie Ambroise; Photography Assistants: Stefan Rappo, Simon Cordova, Anthony Ignacio, Richard Hagashi, Aram Martirosyan, Chris Chandler, Eduardo Fiel, Matt Roady, Stan Rey-GranGe, Benjamin Madgwick; On-Set Retoucher: Christian Tochtermann; Fashion Assistants: Ryann Foulke, Dena Giannini, Sam Walker, Tina HuyNH, Anastasya Kolomytseva, Sue-Wen Quek, Michael Beshara; Hair Assistants: Megumi Asai, Takashi Ashizawa, Delphine Bonnet; Makeup Assistants: Amber Dreadon, Natasha Severino, Mia Yang, Andrew Colvin, Yumi Lee, Maria VB, Tina Solberg; Set-Design Assistants: Evan Jourden, Bryan Porter, Christopher Garrett; Behind-the-Scene videographer: Stephen Kidd.