The 9 New Scandinavian Fashion Brands to Shop Now
The best of the bright young designers at Copenhagen, Oslo, and Stockholm fashion weeks.
---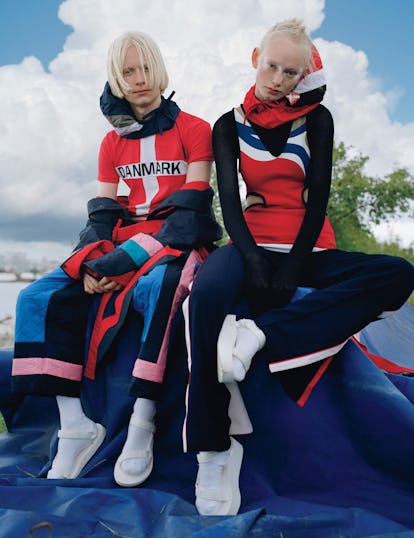 If Copenhagen Fashion Week did not take over your Instagram feed last week, you certainly missed out. From the appearance of Crown Princess Mary of Denmark at a runway show for up-and-coming designers to the much-Instagrammed flash dance at Saks Potts to the afterparty for the cult label Ganni, a performance art–filled evening at designer Ditte Reffstrup's home, to (how can we forget!) the amazing, colorful street style, it was a Fashion Week to remember. And there's more Scandi fashion to come, with Olso Fashion Week and Stockholm Fashion Week on the horizon. With them, of course, there are a plethora of new Scandinavian designers to lust over.
Here, we've rounded up our nine favorite Scandi-chic labels of the moment, all of which you can actually shop here in the U.S. Though we highly recommend you plan a trip to Denmark very soon, we'd never object to shopping from the comfort of your couch. Besides, it's time to start planning your own outfits for New York Fashion Week—and borrowing some style tips from Scandi girls is never a bad idea.
Cecilie Bahnsen
Cecilie Bahnsen, one of the more recognizable names outside Scandinavia, is hands down one of the best new brands out of Copenhagen today. Bahnsen crafts dreamy, pillowlike frocks—often in white and black, although her spring 2019 collection featured gorgeous floral prints in her signature silhouettes and some perfect thin knits.
Helmstedt
This Copenhagen Fashion Week saw the official debut of Helmstedt, the namesake collection of the 25-year-old Royal Danish Academy of Fine Arts student Emilie Helmstedt. Pajama-style silk blouses and pants in shades of pink and blue were presented against a set with hand-painted cresting waves and sea creatures. The colorful silk looks were topped off with extra-floppy bucket hats in coordinating prints.
Rotate
If Copenhagen Fashion Week taught us anything, it is that it's all about the influencers. Former Costume Denmark magazine editors Jeanette Friis Madsen and Thora Valdimars have teamed up with Birger Christensen, a storied Copenhagen department store founded in the 1800s, to create a line of charming day dresses. Created in prints that range from black and yellow gingham (worn by Valdimars during the shows) to blue and pink Liberty florals, and modeled on the runway by fellow the Dane Nadja Bender, this covetable capsule is sure to sell like hotcakes.
Edda Gimnes
Two years ago, Edda Gimnes was a relatively unknown recent graduate who won the Designer for Tomorrow Award and was handpicked to be mentored by none other than Alber Elbaz, the beloved former Lanvin creative director. Now, Gimnes has refined the tropes that won her Elbaz's attention in the first place: cheeky graphics and hand-drawn doodles on colorful fabrics, in wearable silhouettes. Gimnes now divides her time between London and Oslo, but spends the height of summer in her native Norway.
Holzweiler
In 2012, Suzanne Holzweiler launched a small collection of luxurious knit scarves with her brother, Andreas. In the four years since, during which they've also launched ready-to-wear (and added a few other family members to the business), Holzweiler has become one of the more recognizable labels created in Oslo. Now they even show at Copenhagen Fashion Week, which is considered to be the largest of the Scandi fashion weeks, well attended by the international press and buyers. For their new spring 2019 collection, they offered up pared-back essentials (trenchcoats, skirts) in stripes whose color schemes are reminiscent of the label's sought-after plaid scarves.
By Timo
By Timo may not be the newest label out of Oslo, but it is gaining international attention and was just picked up by Barneys New York. Created by Tine Mollatt, the brand offers up colorful printed dresses. While these are lovely, a huge part of the label's appeal is its commitment to social consciousness. The people Mollatt has employed to run her e-shop are all women who have survived particularly dire circumstances at some point in their lives, and fabrics and factories are sourced for their ethical practices as well as their quality.
ATP Atelier
Lately, it feels like Stockholm has become a mini-hub of cool indie accessories labels that we love. First up is ATP Atelier, co-founded by Maj-La Pizzelli and Jonas Clason, who met in the '80s, working at the legendary Swedish fashion brand Gul & Blå. After a trip to the small town of Otranto, in Italy's Puglia region, the duo decided they wanted to launch a curated collection of minimalist sandals. This year, they opened their first store in Stockholm, featuring their Scandinavia-meets-Italy shoes and new bag line, as well as other independent Swedish labels.
Little Liffner
Paulina Liffner Von Sydow is the creative director behind Little Liffner, a clean-lined, label-free, minimal-chic line of handbags in rich fabrics and colors. Previously, she studied economics and art and worked in PR and media, and all of those experiences culminated in the launch of a collection for the woman who is confident enough in herself that she doesn't need a brand-name label.
All Blues
This Swedish jewelry label was founded by the friends Fredrik Nathorst and Jacob Skragge, who initially worked out of Nathorst's mother's kitchen. A collaboration with the famed Swedish brand Acne Studios in 2015 put the duo on the map, but it wasn't until they began focusing on women's jewelry that things really took off. The minimalist designs—often inspired by things found in nature, like sunsets and rock formations—come in silver and gold vermeil. Fashion editors' favorite piece is hands down the Fat Snake earring, a chubby hoop that has been spotted on cool girls everywhere from Scandinavia to Los Angeles.