The 6 Best TV Episodes of the Century Not on The Ringer's List
Justice for Laura Dern and Alyssa Edwards?
---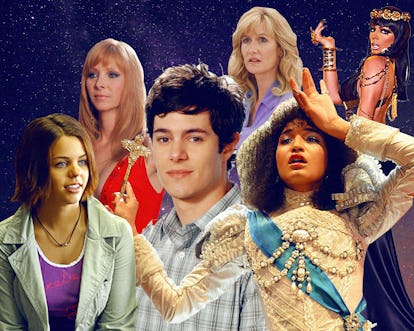 On Tuesday, The Ringer dropped an ambitious ranking of the 100 best episodes of television this century. It included what you'd expect (yes, episodes of Game of Thrones, Mad Men, Breaking Bad, and The Sopranos all made the top 10), and more than a few unexpected entries (Vanderpump Rules, Laguna Beach, and The Price Is Right) all made the list, to our delight. From the most prestigious of prestige TV to the guiltiest of guilty pleasures, the list summed up our culture's ever complicated, constantly growing relationship to television since the turn of the century.
Yet lists like these are meant to be as subjective as they are definitive. They're designed to create heated online discussion and discourse, and the wider the net they cast (18 years of every genre imaginable of series television is pretty open territory), the more debate is sure to ensue. Indeed, maybe the best service lists like these provide is the conversation they generate. W's staff Slack certainly was roiled by the list yesterday, and we got to thinking about the friendly suggestions and addenda we'd make to this list. Someone has to make sure there was justice for Laura Dern, after all. —Kyle Munzenrieder
The O.C., Season 1, Episode 13, "The Best Chrismakkuh Ever"
Lauren McCarthy: There are all types of holiday traditions: decorating the Christmas tree, singing carols, avoiding your weird great-aunt who just wants to talk about how "nifty" it is that you work for "the Internet." My personal favorite tradition comes each Christmas Eve, and revolves around locking myself in my childhood bedroom and hunching over a laptop—not exactly Christmas lights, but, hey, a glow is a glow. It is then, you see, that I take in my annual viewing of the best holiday episode to ever grace the silver screen: The O.C.'s "The Best Chrismakkuh Ever." That title is not hyperbole. To quote Stefon, this episode has everything: Marissa shoplifting, an iconic love triangle, Summer in a freakin' Wonder Woman costume, jokes about Peter Gallagher's eyebrows, Seth Cohen lying dejected while listening to Bright Eyes. Really, what more could you ask for? This episode even features the introduction of one of our generation's greatest villains, Oliver Trask, lest you forget. If you don't think this is the greatest seasonal episode to ever air, then to you I say: Oy, humbug.
Pose, Season 1, Episode 6, "Love Is the Message"
Brooke Marine: As W's resident Pose fanatic, I would be remiss if I didn't plug what I believe to be the best new show of 2018. When have we seen a majority queer and trans cast telling the unsung stories of the queer and trans people of color who lived and loved in New York City before them? Oh, that's right—it's never been done before. Pose is groundbreaking, and the Janet Mock–penned episode "Love Is the Message" has everything—a sincere and tear-jerking analysis of the HIV/AIDS crisis in America, a riveting performance by Evan Peters, Kate Mara, and Indya Moore (they're all engaged in a love triangle, for lack of a better word), cliffhangers, an epic takedown of a corny f–kboy, and, of course, this wouldn't be a Ryan Murphy production without a musical moment in which the Broadway vets Billy Porter and Mj Rodriguez sing a duet of "Home" (Mock specifically chose the Whitney Houston version, not the Stephanie Mills version). What else could you want in a show besides all of that?
RuPaul's Drag Race: All Stars, Season 2, Episode 5, "Revenge of the Queens"
Kyle Munzenrieder: Once I realized The Ringer was including reality television in its list, I scanned through the next 75 entries or so wondering when—not if—RuPaul's Drag Race would show up. How many shows mean quite as much to their intended audience? What show represents the truly radical possibilities of reality TV's inclusion? It's touched on so many important issues that scripted shows have either struggled to deal with or ignored completely (no one is sweating the omission of the Folsom Street Fair episodes of Looking). How could it be overlooked completely? Of course, "Revenge of the Queens" is not the best episode to point at to highlight the show's social currency. Being an All Stars season, it is complete fan service. It is the Avengers: Age of Ultron of drag. It is producers giving viewers everything they want and then 10 things they didn't know they needed. The episode begins with the show's ultimate tragic villain, Phi Phi O'Hara, talking smack about previously eliminated contestant and fan favorite Alyssa Edwards, unaware that they're standing behind a two-way mirror listening to everything she says (she's that girl you knew she was). The queens, as it happens, get a chance to return, and the challenge ends in one of the most epic lip syncs in the show's history, between Edwards and Tatianna. When Ru herself announces that both queens would be staying, the camera zooms in. In a mirror-image shot of Edwards realizing she was being defamed by O'Hara in the opening scene, the camera pans to the face of O'Hara as she realizes it's inevitable that she'll now be eliminated. What the show represents is important, but it remains surprisingly popular thanks in part to being high reality TV drama at its finest.
Enlightened, Season 1, Episode 6, "Sandy"
Brooke Marine: In this episode of Enlightened, Mike White's criminally underrated HBO drama starring Laura Dern, Robin Wright plays Sandy, a close pal of Amy Jellicoe's (Laura Dern) from rehab in Hawaii, who visits town. "Sandy," which was directed by Jonathan Demme, is all about thinking you've finally met someone who truly "gets" you, but also all about how our memories serve (or fail) us. Watching Amy excitedly welcome someone she thought was one of her closest friends only to learn that she is, in fact, quite a different person touches on a nerve you thought you successfully buried back in middle school. Those friends you thought you were so tight with from summer camp? They probably won't remember you by the time school starts again in the fall. The same thing goes for Sandy, who Amy worries will sleep with her drug-abusing ex, Levi (played by Luke Wilson), while in town to teach yoga. The opening and closing breathy monologues Dern gives in Enlightened could have been the stuff of legend (move over, Meredith Grey) had HBO not canceled the series after two seasons. "Let it go," is the message here.
The Comeback, Season 2, Episode 8, "Valerie Gets What She Really Wants"
Kyle Munzenrieder: In the span of a few months back in 2005, America was introduced to cringe comedy TV thanks to the premieres of both NBC's The Office and HBO's The Comeback. Neither was an immediate hit, and while The Office (barely) lived to see a second season and would eventually go on to be the only thing your cousin watches on Netflix, The Comeback wasn't so lucky: The show had to wait nine years and reach near mythological cult status before Lisa Kudrow and co-creator Michael Patrick King were able to bring back anti-heroine Valerie Cherish for a second set of episodes. What we all learned in the meantime, though, was that while Americans can learn to love cringe comedy, it has to come with a side of sweetness and redemption, unlike the more blunt original English version. Season 2 pushes Valerie to her limits and, more often than not, the audience's tolerance for her as a character in a series of events that have only come to have more relevance in the Time's Up era. While she reaches professional highs, her personal life is left in ruin. Then, on the night Valerie is tipped to win an Emmy, she walks away from it all in an absolutely dreamy sequence. If cringe comedy characters need their sweet redemption, Kudrow is going to make the audience work for it—but then give you the sweetest redemption of all.
Degrassi: The Next Generation, Season 3, Episode 18, "Rock & Roll High School"
Lauren McCarthy: As with any good high school TV show, Degrassi: The Next Generation featured a Battle of the Bands in its heyday. In fact, there are two iconic episodes revolving around this musical troupe; what can we say, it really does go there. Season 2's "Speak (Part Two)" is a gut-wrenching conclusion to Paige's rape, culminating in her performing "Poor Thing" (a true bop) to the face of her rapist. So when Season 3's "Rock & Roll High School" comes around, the stakes are slightly lower—but, of course, still pretty f–king dramatic (again, it goes there). The premise: Craig has just cheated on Ashley and gotten Manny pregnant, and now has to face Ashley in the Battle of the Bands. In perhaps the greatest revenge fantasy come to life (at least for me, at the time a very angsty 14-year-old), Ashley and her bandmates saunter into the auditorium like some kind of Avril Lavigne coven, wearing slashed T-shirts baring Craig's face covered in flames, and perform the searing "Mr. Nice Guy." Yikes! But then! Craig, backed up by none other than Jimmy Brooks, aka Drake, on the bass, seemingly makes up the iconic hit "Dust" on the spot with seminal lyrics such as, "What I know is that I suck, and what I know is that I'm sorry/What I know is that I'm a loser, yeah." I've had both of those songs saved on my computer ever since. (Also, Craig and Jimmy's band was named Downtown Sasquatch, which seems important to note.)
Honorable Mentions:
Aqua Teen Hunger Force, Season 1, Episode 8, "Revenge of the Mooninites"
Kyle Munzenrieder: One really can't talk about television of the new millennium without mentioning the sledgehammer that Adult Swim's early short-form programming was for many millennials' sense of humor. Overnight (literally), we went from a generation that clapped and giggled when Joey from Friends said "How you doing?" to one that now communicates by dropping Dada-esque memes into the group chat. This episode is the first where the show's bizarre concept (three anthropomorphized pieces of a fast food value meal living together in New Jersey) really gels. In the ep, two aliens from the moon conspire to steal a magical belt from the Aqua Teen's sweatpants-wearing neighbor because it confers powers to the wearer based off of the lyrics of Foreigner songs. If that makes no damn sense, it's because that's sort of the point.
Skins, Season 1, Episode 8, "Effy"
Brooke Marine: Effy Stonem is still one of the greatest TV teens of all time, especially in her namesake, penultimate Season 1 episode of the British teen drama Skins. Effy, played by an imperious Kaya Scodelario, hardly ever utters a word, but in her episode viewers finally understand why she sneaks back into her house every morning after the sun's come up. The hard-partying oft-ignored youngest child says one word before almost dying of a drug overdose and turning out okay in the end. Effy really was one of the wilder rides on this bonkers show.
Lizzie McGuire, Season 2, Episode 16, "Inner Beauty"
Lauren McCarthy: There are plenty of great Lizzie McGuire episodes, but the one that always sticks out in my mind is when Miranda develops an eating disorder that lasts one afternoon, and then they make a music video to Play's "Us Against the World." It's pretty good.
Crazy Ex-Girlfriend, Season 1 Episode 1, "Josh Just Happens to Live Here!"
Brooke Marine: As the first season's theme song insists, Crazy Ex-Girlfriend is "a lot more nuanced" than one might initially think, and Rachel Bloom's dedication to writing and performing entirely new self-aware and parodic songs in every single episode makes her the queen of the musical dramedy format. Before diving deep into serious discussions of Rebecca Bunch's mental illness, Crazy Ex-Girlfriend starts out with a bang of a pilot that sets the stage for the rest of a show unlike any other on TV.
Gossip Girl, Season 2, Episode 1, "Summer, Kind of Wonderful"
Lauren McCarthy: It's been 10 years since this episode first aired (time is weird), and I still think about the white Marc Jacobs dress that Blair wears to the white party at least once a week. Also, it's Gossip Girl in the Hamptons! What's not to like?
Absolutely Fabulous, Season 5, Episode 3, "Panickin'"
Kyle Munzenrieder: 1. Despite how many classic American characters have basically been ripped off by the template set by Patsy and Eddy, the show's influence continues to go unfairly ignored by critics on these shores. 2. Yeah, it's easy to say the '90s episodes were the best, but more than half of the long-running (but low episode count) series' content has been produced post-Y2K. This particular episode boiled the series' appeal to its bones: The two main characters get locked in a panic room with a bunch of champagne and continue to talk s–t for a few hours. What more could you want?