Edward Enninful on the Best (And Worst) Fashion Moments of the '90s
A decade of many good memories—Kate Moss, Kurt Cobain, Helmut Lang—and the occasional unfortunate fad. "I still hate those leather leggings," Enninful says.
---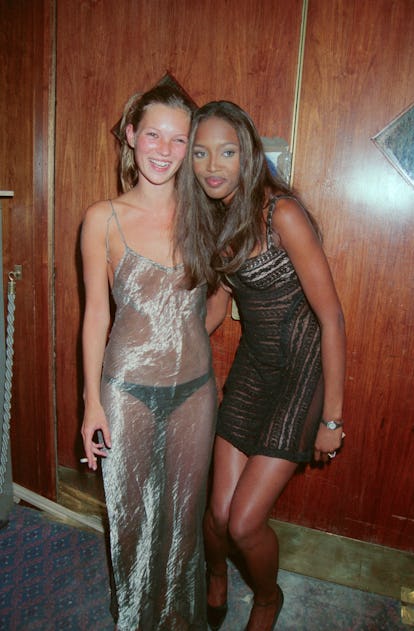 W Creative and Fashion Director Edward Enninful was a mere 18 years-old when he was appointed fashion director at i-D magazine in 1991, as the youngest ever at an international publication. During one of the most influential decades in fashion, he came of age not only personally but professionally, sitting on the floor at Helmut Lang shows with contemporaries like Pat McGrath to watch friends like Kate Moss and Naomi Campbell take the runway by storm. For Enninful, what became the grunge "trend" was already his lifestyle, so when Marc Jacobs brought the look to Perry Ellis in 1992, he was shocked only that it'd made it to the mainstream so fast. "It was a very different time," he said. "Shows were exciting! It was a whole new attitude: no makeup, less is more … the '90s were fun!" His many covers for i-D featured models in long leather skirts and worn-in sneakers, mesh tank tops, slip dresses, chokers—so many trends that have made their way back onto the runways recently, and the pages of W. Here, Enninful revisits the best and worst fashion moments of the '90s.
Do you think the '90s are back? How does that statement make you feel? I feel that the '90s have been back for a while, actually. The generation that was born during the '90s have discovered it. They've discovered the designers from that period, like Helmut Lang and Calvin Klein. It's a whole new thing for them, but for me it's funny because it feels like it was just yesterday.
Well, you're right—it kind of was. Yeah. I guess it's like when I thought about the '70s; they seemed so far away because that's when I was born. It's cyclical.
What are some trends from the '90s that you're seeing now? Oh my goodness! So many: Chokers, slip dresses, hoodies, skinny jeans, short schoolboy jackets, sneakers with dresses, long skirts. The funny thing is that the fashions from the '90s seem to sit so well with the fashions of 2016. Everything from then somehow skipped and came back.
Why do you think that is? It's generational; a younger generation looks back to when they were born and is nostalgic. I also think that it's easier to look back at the '90s and pick out pieces. The '70s and '80s were so different.
Is there an attitude from the '90s that people identify with today as well? When all this was happening in the '90s, it was also very much a political statement. In England, we were like, "We don't have much money, but we can customize and out-do each other." Alongside fashion you also had the bands like The Stone Roses and Happy Mondays. Then you had the photographers and stylists and people like John Maybury and Isaac Julien making films. It was a whole group movement. It was very cultural. Now, I feel it's more stylistic. Like, "Oh, let's look to the '90s because it was cool." But back then, it was very new. It was a reaction against the '80s, which was all about excess. We had to break it and inject reality into fashion and into the world. When people talk about "reality," they always have to look back to the '90s. I would like to see the reality of 2016 …
What are some runway moments that stick out in your memory? I remember the first designer who reached out to us was Helmut Lang, when he started showing in Paris. There was a woman named Michelle Montaigne and she invited me, Craig McDean, David Sims, and Pat McGrath to Paris, plus Kate Moss, who started modeling for them. Michelle looked after Ann Demeulemeester, Helmut Lang, and they were the coolest of the cool. We used to go to the runway shows and sit on the floor. We had no money, so we would take the Métro from show to show in Paris. Helmut showed the coolest dresses with sneakers and parkas. The attitude was so modern! It was such a reaction to everything that had gone on before. And then in Milan you had Prada. It was an age when Miuccia was doing all the nylon stuff, giving a kind of utilitarian feeling. And then Jil Sander was the minimalist with clean, perfect lines. It was a very different time. Shows were exciting! It was a whole new attitude: no makeup, less is more. I worked at i-D magazine at the time and it was the perfect place to be. We were all friends. Yeah, the '90s were fun! A lot of fun.
Were you at Marc Jacobs's Perry Ellis grunge show? Grunge started for us in 1990, and when that show happened in '92 we were like, "Oh my god, it's really being legitimized!" I know Marc got into a lot of trouble for it, but for us it was just so cool. It was just what we wore. It was how we lived, but I think it was so important for America to see that. After that, you had the famous story that Grace Coddington and Steven Meisel did. So, Marc brought it to the fashion area in America, and it was one of the greatest collections ever shown here, even though he was in such trouble. He really just reflected what people were feeling and wanted to wear—and America wasn't ready. But now he's really heralded as one of the first. Anna Sui was always there, too, doing her thing.
What music were you listening to in the '90s? Music and fashion went hand-in-hand. Kurt Cobain really made an impression on us. He just had that rebel attitude. You could tell he was super talented, but didn't really care. It's a shame what happened in the end. Seattle was also really influential with the whole grunge movement; we used to fly there to shoot Kurt Cobain and Courtney Love. They really resonated with London.
What were some standout red carpet moments for you? I remember Kate Moss wearing that silver bias-cut dress with the underwear underneath. And Kate Moss with Johnny Depp in Narciso Rodriguez. When Kate got accepted as part of the fashion mainstream, that's when we, the editors and photographers, got accepted as well. We all grew up together. I've been friends with her since she was 14 and I was 16. She was the ambassador; wherever she went, we went as well.
The '90s were also the decade of the supermodel. Yes! But she was our supermodel. We all became friends. Naomi is one of my best friends. But Kate was really the gateway for all of us. Once we started working with Kate, everyone followed: Linda, Amber, Naomi, etc.
And what about your personal style? What did you wear? Oh my god. I used to wear a lot of Helmut Lang. Painted jeans. Cropped crombies with t-shirts. A lot of V-necks. The perfect V-neck was very important. Very grunge, actually. White Ann Demeulemeester pants. A lot of Margiela. I have a picture of me wearing one on my Instagram, actually. I was very skinny then. Everything was very tight and slim-fitting. Converse. And we loved hipster trousers.
Hipster? Like the low-fitting pants. That was a very good look. That one I miss.
Would you bring any of it back? Are you embarrassed by any of it? How I dress then is not that different from how I dress now. I mean, I don't wear the skinniest of jeans anymore. If I was a size whatever I was, I would. Trust me.
Are there any trends from the '90s that you think should stay in the '90s? I still hate those leather leggings. I really do. I detest them. I couldn't stand them then and I can't stand them now. They get all saggy. It's cheap. And all sparkly! Oof! No.
And trends that you're bringing back in your own work? I love all the slip dresses. I also like this return to street wear that we saw at a lot of the shows, the hoodies and parkas. I love the return of leather jackets and little leather dresses. The '90s was also about fabrication, really paying extra attention to fabrics that were light, like a sheath. I think it's great that that's coming back. Just the idea of a new minimalism, with an attitude. A new minimalism based on the minimalism of the '90s.
How did the minimalism of the '90s fit into the lifestyle back then? And this idea of "new minimalism" now? How does it fit the girl of today? The girl today is probably doing a lot more than what my friends and I did in the '90s. With your generation, there's no time for fuss. You want to get out there, do your job, do what you've got to do, go meet your friends. Practicality plays a part. Practicality is more than a sense of wanting to be fashionable. People don't have time like they used to. You put on a little tank top and jeans, maybe a leather jacket, and go. That lifestyle's definitely got something to do with it.
What did the future look like to you in the '90s? Oh god, that's an interesting question. I've never been asked that before! I was so involved in what I was doing then. I was wrapped up in my generation. I think the first sign of what the future held was when Tom Ford appeared. They say he killed grunge. He brought with him this Amazonian glamazon that we'd never really seen before. So, I think that when he came along, it was the first sign that the future would be more … fashion. I really remember thinking, "Oh, things are going to be different."
By fashion do you mean luxury? Luxury. Don't forget, logo mania started at the same time, too. When all that started, I just felt that fashion as a cottage industry, as I knew it in London, was going to open up. Look now: New York, Paris, Milan, London … Back when I started, it wasn't like that. If you were in London, you were in London. I really felt there was a globalization of fashion that was to come. And it happened mid-2000s, when people started to work in America. With the advent of Tom Ford, I knew fashion was going to be more global, but I never imagined it would be the way it is today.
How is it different? People come and go faster. We were allowed to make mistakes and learn. Designers had time. Now, you either have to deliver, or you're out. And with all this social media stuff … Damn! Everything is being documented. People don't even have a chance to grow. It's information overload. It's a good thing, too, because you can get discovered, but I feel there's a lot of pressure on the younger generation. A lot of pressure.
Photos: Edward Enninful on the Best (And Worst) Fashion Moments of the '90s
Kate Moss and Naomi Campbell at the Elite Model Agency party, London, 1993. Photo by Getty Images.
"Here is a picture of Pat McGrath l and I in the '90's. We have been friends since we were teenagers back in London… No one makes me laugh like she does."
Photo courtesy @edward_enninful.
Kate Moss modeling Anna Sui Spring 1993. Photo by Getty Images.
Frances Bean Cobain, Courtney Love, and Kurt Cobain at the 1993 MTV Movie Awards. Photo by Getty Images.
Amber Valetta modeling Helmut Lang Spring 1998. Photo by Getty Images.
Ann Demeulemeester Spring 1997. Photo by Getty Images.
Kate Moss modeling Prada Spring 1996. Photo by Getty Images.
Johnny Depp and Kate Moss, wearing Narciso Rodriguez at the 1997 Cannes Film Festival. Photo by Getty Images.
Maison Martin Margiela Fall 2001. Photo by Getty Images.
Helmut Lang Fall 1999. Photo courtesy WWD.
Naomi Campbell modeling Jean Paul Gaultier Spring 1994. Photo courtesy Vogue archives.
Kate Moss and Naomi Campbell in London, 1991. Photo by Getty Images.
The Stone Roses. Photo by Michel Linssen/Redferns/Getty Images. Photo by Getty Images.
Happy Mondays. Photo by Mick Hutson/Redferns/Getty Images. Photo by Getty Images.