YouTube Picks From the Cultural Cognoscenti
Virgil Abloh, Hari Nef, Caroline Calloway, and others share their favorite deep cuts from the streaming platform.
---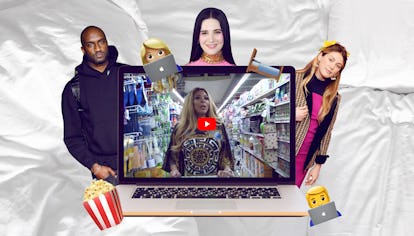 As we are all to remain inside our homes for the foreseeable future, it is essential to stay entertained. At the end of quarantine week one, you have probably run through more of your Netflix queue than you would like to admit. I felt like it would be helpful to poll the members of my creative community and have them recommend videos from the deep corners of YouTube, a less polished platform with a plethora of hidden gems, from front-facing camera comedy to clips of reality stars raiding their refrigerators. I myself stumbled upon this video of Van "The Man" Morrison with a full band absolutely destroying a more reggae-feeling version of "And It Stoned Me" at the Montreux Jazz Festival in 1980. It brings a smile to my face. I hope this collection of links, hand-selected by the likes of Hari Nef, Virgil Abloh, Susan Korn, Caroline Calloway, and more, does the same for you.
Hari Nef, Writer, Actress, Model
"Wendy Williams' YouTube channel is a bottomless goldmine, particularly her online-only archive of "After-Show" clips. This vérité sequence of Wendy tearing up a Chelsea Gristedes embodies the joy of grocery shopping in simpler times."
"Mine is the E! True Hollywood Story of Rodney Harvey, the other actor who died of a heroin overdose who starred in My Own Private Idaho (the first was River Phoenix in 1993). The pulpy episode has cousins weighing in about how he became addicted to drugs and was consistently strung along by his acting agent. He was a recidivist hottie who died of a heroin overdose at a seedy LA motel at age 30, and because he was such a looker, having appeared in Calvin Klein ads and shoots with Madonna, he became the unlikely face of a PSA for the Office of Drug Control Policy (Partnership for a Drug-Free America)."
"I love this documentary by the photographer David Bailey on Andy Warhol, called 'Warhol by Bailey'. He made a few of these documentaries, but the Warhol one is a real treat. His friends, other New York artists, Montauk, New York City—it's full of personality. Bailey also made another documentary called 'Beaton by Bailey' which you can also find on YouTube. Equally fun.. You'll find Truman Capote, Mick Jagger, David Hockney… etc. Plenty of cheeky comments to keep you laughing. Bailey's last documentary was on the director Luchino Visconti. It used to be on YouTube, but no more, sadly."
"This whole thing is ridiculous and I revisit it several times a year when I need a good laugh. It's one of the weird shows that will soon fall through the cracks and be forgotten by history, which is sad to me. Admittedly, the show wasn't as good as this clip was, but I've always had a fondness for Bernice because she's always so positive on her social media accounts. What's even more ridiculous than the clip itself is the fact that when I first saw it I thought it was real and my old coworker had to look me dead in the eye and say, 'You can't be serious,' for me to realize it was all smoke and mirrors. Tinseltown!"
"Last night, I started re-watching Hennessy Youngman's Art Thoughtz series. In videos including, 'How To Make an Art,' 'How to Hip Hop: No Homo,' and 'Louis Bourgeois' the artist Jayson Musson uses his persona Hennessy Youngman's humor and art historical chops to satirize the art world."
Jason Stewart, Creative Consultant, DJ, and co-host of How Long Gone
"This is just The Hills' Whitney Port giving you a 'tour of her fridge' from 2013. Landline phones, Silk™ brand almond milk, a simpler time just seven years ago that makes you yearn for the not-too-distant past."
Susan Korn, Founder and Designer, Susan Alexandra
"We are living in the golden age of front-facing camera comedy and the leader of this movement is Cole Escola. When I can't sleep at night, I go to the beginning of his Instagram and watch every single post."
"Miguel Atwood and Carlos Nino interpreting J Dilla in chamber style music. The full dvd is on Youtube. Always found it dope to see a live band or orchestra play 'sample-based' music. It's kinda full-circle."
"I'm currently revisiting all of my favorite ballet videos. It's a deep, amazing hole to get into. Live theater performances are one of my favorite things so this seems incredibly dramatic and appropriate for this time. My all time favorite ballet video is this one with Alessandra Ferri as Juliet in Romeo and Juliet. She completely loses herself in the role of Juliet, and has gone down in ballet history as one of the most remarkable ballerinas to take on the role."
Virgil Abloh, Founder of Off-White and artistic director of menswear at Louis Vuitton
"As odd as it may be, I hate documentaries because I hate hearing other people's stories. I love peripherally knowing about a subject so I sustain my own thoughts. But Day One of quarantine city, while talking to a younger designer that I'm looking to encourage to do their first fashion show, I randomly Googled 'Margiela Season 1' to pass on a tutorial for the art of the fashion show. I found this amazing series by Bliss Foster, which I find to be a refreshing reminder of what fashion journalism can be."
"During quarantine I've wallpapered my brain with the interests of a very basic American teen. Emma Chamberlain. Tana Mongeau. Both of whom come up as suggested searches when you Google me, by the way! I would know: Another thing I'm Googling is myself. And boy do I highly recommend the CC rabbit hole. You can pass a good two days of quarantine down there."
Plus, Chris's Pick: