Everything You Need to Know About Bette Davis Vs. Joan Crawford Before the Premiere of Feud
The details of the epic real-life feud on the set of What Ever Happened to Baby Jane? driving Ryan Murphy's FX series Feud: Bette and Joan.
---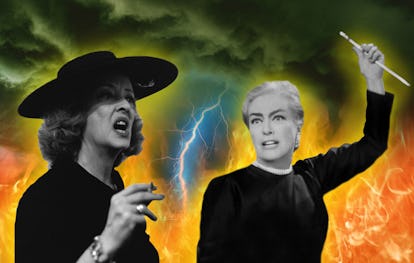 The latest idea to emerge from camp impresario Ryan Murphy is the anthology series Feud, which will highlight a stunning, starry, squabbly head-to-head between two foes each season. Of course, the only logical choice for season one was this infamous battle between movie stars Bette Davis and Joan Crawford, whose hatred for each other was as colorful as it was legendary. (The second season is going to be about Prince Charles and Diana.)
Season one's eight episodes will focus on Davis (played by Susan Sarandon in the show) and Crawford (Jessica Lange) on the set of the 1962 camp classic Whatever Happened to Baby Jane?—but it would be wrong to presume that their warring started there. In fact, it was their notorious, longstanding squabbles that made the movie an attractive proposition in the first place—and, eventually, a box office hit.
The Background Joan Crawford started out in Hollywood during the silent film era of the '20s, and basically willed herself into movie stardom through relentless self-promotion and sleeping around. She was already well-established and married to Hollywood royalty Douglas Fairbanks, Jr. by the time Bette Davis arrived in town. Both actresses struggled before hitting it big, though Davis's breakthrough didn't come until she starred in the movie adaptation of Of Human Bondage in 1934. (There was a public outcry, including from other nominees, when Davis was snubbed for an Oscar nomination for the role.) The undercurrent of the rivalry springs from the fact that Davis, from then on, saw herself as a better artist than Crawford—and did not hesitate to let people know how she felt. "Joan Crawford is a movie star," Davis once said. "I am an actress."
The First Slight The feud really began to ramp up in 1933, before Davis's star turn. Her first film in which she held a lead role, Ex-Lady, was released the same day that Crawford announced her divorce from Fairbanks. That tabloid tidbit greatly overshadowed the release of Davis's movie, which was the latest in a string of early flops for Davis. She never really recovered from that slight.
The Man Who Threw Gas On the Fire Naturally, Hollywood lore likes to blame the whole struggle between two women on a man. In 1935, when Davis had become the talk of the town, she starred in Dangerous and fell in love with her romantic lead, the dashing actor Franchot Tone. Offscreen, however, Crawford made her own play for Tone. Supposedly, she invited him over to her house; when he arrived, she was seated in her solarium completely nude. He naturally fell for this—and her. The two were soon married. Even in a 1987 interview, 52 years later, Davis still couldn't forgive Crawford from stealing Tone away from beneath her. The irony is that Davis and Crawford, perhaps thanks to their feud, are still famous names, and Tone is nothing but a footnote to their story.
After the fight over Tone, things got worse. When Davis won the first of her two Oscars (for Dangerous), at the ceremony Tone jumped up to congratulate her and Crawford turned her back. That night, Davis dressed plainly for the ceremony, thinking she didn't have a chance of winning. When she walked by on the way to the stage, Crawford said, "Dear Bette. What a lovely frock!"
The Fight Over Roles Crawford's career then fell into a "box office poison" phase, largely because she starred in a string of unsuccessful films with Tone. The Hollywood system of the 30's and 40's was very self-contained, with each movie studio working with its own stable of writers, producers, and directors. Crawford was ensconced at MGM and Davis was the top star at rival Warner Bros., so neither came up for the same parts at first. But that ended in 1943, when Crawford tried to jumpstart her career by shifting from MGM to Warners. She asked for the dressing room next to Davis's, and tried to make nice by sending her a series of gifts—all of which Davis returned.
At the time, Crawford was resentful that Davis was always given the first choice of the best parts. For her part, Davis was resentful that Crawford was able to make hay with her cast-offs. Crawford's signature role, in Mildred Pierce in 1945, was originally slated for Davis, who turned it down, and then became furious when Crawford won an Oscar and successfully restarted her career.
The First Onscreen Union In 1950, Warner Bros. tried to put their two stars together in the women's prison drama Caged. Davis refused to sign on, reportedly commenting that it was a "dyke film." This might have (probably) was a dig at Crawford, whose affairs with both men and women were notorious in Hollywood—their legend has only grown since her death. Some posit that the heat of their hatred might actually have something to do with Crawford's sexual frustration when it came to Davis. Her confident Jerry Asher told her biographers that Crawford once said, "Franchot [Tone]isn't interested in Bette but I wouldn't mind giving her a poke if I was in the right mood."
The Star Is Born When Crawford had a falling out with her friend Katherine Albert, she exacted revenge by writing the script for a movie called The Star. It was the tale of a has-been movie star desperate for a comeback, much in the vein of Norma Desmond from Sunset Boulevard. Many assumed it was a roman à clef about Crawford, especially after Davis attached herself as the star in 1952. She was nominated for an Oscar for the scathing role.
The Co-Stars Both Davis and Crawford had numerous career ups and downs; by the '60s, they were both on the wane. Crawford came up with the idea for the two of them to star in a film adaptation of Whatever Happened to Baby Jane, about a former child star who takes her more famous sister hostage in their own home. They had to convince the studio to make the picture, even though it was the 1962 equivalent of Katy Perry and Taylor Swift recording an album of duets. Davis knew a good opportunity when she saw one and signed on—as long as she got to play the role of Jane and she was assured that Crawford was not sleeping with the director. (She didn't want her rival given any preference in the close-ups department.)
There was plenty of drama on set, as Murphy's series will no doubt play up, but there are two especially famous incidents. At the time, Crawford was married to the CEO of Pepsi, therefore Davis had a Coke machine installed in her dressing room. And during a scene where Davis has to drag Crawford across the set, Crawford made it harder by filling her pockets with rocks. Juvenile, really.
The Award Goes To… The film turned out to be a big hit, but the drama didn't end. Furious that Davis was nominated for an Oscar and she wasn't, Crawford offered to accept the award on the behalf of any of the winners who couldn't attend the ceremony. When Anne Bancroft, who was in New York starring in a Broadway show at the time, won for The Miracle Worker, Crawford got to hold the trophy onstage. It's all about optics.
The Last Laugh The Oscar grab was the final public salvo between the two in their epic duel. After the success of Baby Jane, they signed on to do another picture, Hush, Hush Sweet Charlotte, but Crawford dropped out, citing health concerns. Many think she was really just afraid of being upstaged by Davis once again. (Olivia de Havilland, who had her own long-standing feud with her famous sister Joan Fontaine, filled the role). Crawford died in 1977 and Davis lived for another 12 years, often speaking of their feud, and even coming to Crawford's defense after her daughter published her memoir Mommie Dearest. But since Davis died later, she got in one final, famous quip about her rival: "You should never say bad things about the dead, only good. Joan Crawford is dead. Good."
Infamous Hollywood Feuds: