Queen Beyoncé Received Tributes from Jay Z, Michelle Obama, and Serena Williams on Her Birthday
The only correct way to celebrate Beyoncé's birthday is with grand gestures.
---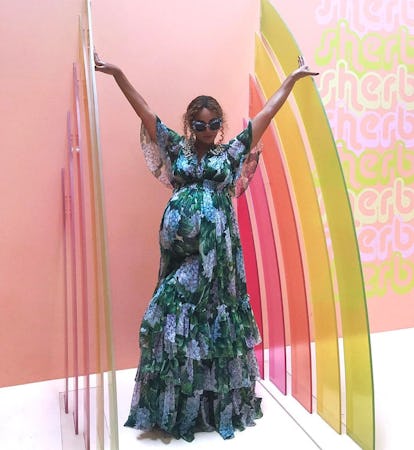 It was good and appropriate to schedule Labor Day for September 4, coinciding with the national holiday that is Beyoncé Knowles-Carter's birthday. Over the long weekend, Beyoncé turned 36, and not only was a large amount of the population able to take the day off work to celebrate, but some of the star's closest friends and family also presented her with the grandest of gestures.
Beyoncé spent the eve of her birthday at the Made in America festival, the Philadelphia-based festival her husband, Jay Z, founded six years ago. Jay Z headlined the festival's Sunday night lineup; towards the end his set, the rapper offered prayers to Houston—and then led the crowd in two separate, enthusiastic singalongs of "Happy Birthday" for his Houston-native wife. (The first, the standard party song; the second, the Stevie Wonder version.) Festivalgoers spotted Beyoncé herself swaying and beaming from the audience.
The singer's birthday festivities may have spilled over into Sunday, but that didn't mean Monday was any less eventful: On Labor Day-slash-Queen Bey's Birthday, Beyoncé (or, more likely, members of her team) posted a series of images to her website. Ostensibly in support of disaster relief efforts in Houston—Beyoncé's "#BeyGOODHouston" campaign urges donations to the Greater Houston Community Foundation, Bread for Life, and Texas Southern University—as well as in celebration of Beyoncé's 36th year, the photos depict none other than Michelle Obama and Serena Williams, who recently gave birth to her first child, clad in black off-the-shoulder dresses, statement bib necklaces, and wide-brimmed black hats, just like Beyoncé wore in her Lemonade visual album.
It's not just the former first lady and tennis star who participated, though: Beyoncé's own mother and daughter Tina Knowles and Blue Ivy Knowles Carter, Jay Z's mother Gloria Carter, Beyoncé's former bandmate Kelly Rowland, and her protégée Halle Bailey all appear in the photo series. They're captioned, simply, "Happy Birthday Beyoncé From Your Family and Friends." And Beyoncé simply received their tributes on her own website, like a true queen. (Who organized this? Was it you, Blue Ivy? Who else might have back-end access to Beyoncé's website?)
All the birthday toasts didn't end there: Throughout the day, Adele, Bruno Mars, Maisie Williams, and Chance the Rapper were all part of the chorus of "happy birthdays" that poured out across the internet. But unless you actually dressed up as the musician, or offered her a tribute in front of a live crowd of thousands, did you really even celebrate?
Alexander Skarsgard had a long-overdue Swedish homecoming on his birthday: