Naomi Campbell and Adut Akech Star in Beyoncé's New Visual Album
Naomi Campbell joins a bevy of famous faces appearing in Beyoncé's new visual album, Black Is King, which will stream exclusively on Disney+.
---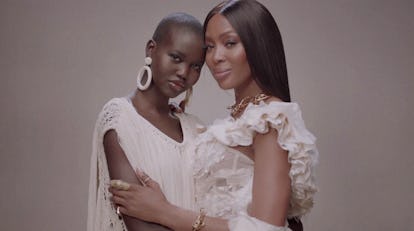 Image courtesy of YouTube.
Last month, Beyoncé dropped a teaser announcing that she would release a visual album titled Black Is King on Disney+ on July 31. Now, an official trailer for the visual album and film has arrived, and there appears to be a few familiar faces starring in the project.
Not only does Beyoncé's husband Jay-Z make an appearance in the trailer, but glimpses of Kelly Rowland, Pharrell Williams, Aweng Ade-Chuol, Lupita Nyong'o, and Tina Knowles-Lawson can be caught as well. Most notably joining the A-list cast of famous fiends are Adut Akech and her "second mother" supermodel Naomi Campbell in the trailer. Of course, this is not the first time Beyoncé recruited her many famous friends to appear in a surprise visual album—just look to Lemonade or Beyoncé for evidence of that.
As the trailer for Black Is King starts, a voiceover from Beyoncé can be heard saying, "Life is a set of choices. Lead or be led astray," as well as echoes from the original film, such as the voice of Simba shouting, "I laugh in the face of danger," and the voice of Scar demanding the protagonist to "run away and never return."
Beyoncé has said that this project was inspired by Disney's 2019 re-release of The Lion King, in which the musician lent her voice to the character of Nala. She also released a soundtrack for the film called The Lion King: The Gift, which serves as the basis for Black Is King. The project was shot in South Africa, western Africa, Belgium, Los Angeles, New York, and London. According to the YouTube description of the project (which was also executive produced by Beyoncé), Black Is King "reimagines the lessons of The Lion King for today's young kings and queens in search of their own crowns."
Related: Beyoncé, Solange, and Tina Demand the Senate Give Us Safe Voting (and a Second Stimulus)