Beyoncé Gives Rare Interview to Announce She's 'Slowing Down'
You can't say she doesn't deserve it.
---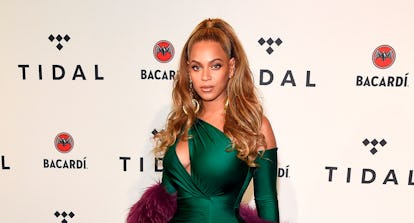 Photo by Kevin Mazur/Getty Images for TIDAL
Beyoncé has accomplished a lot over the past decade, but one thing she hasn't seemed too interested in is giving interviews. So, it's somewhat ironic that in an increasingly rare interview she's announced her intentions to "slow down."
Beyoncé appears on three separate covers of the latest issue of British Vogue, wearing McQueen, Mugler, and, of course, her own Adidas line Ivy Park (the story was shot by 21-year-old Kennedi Carter, the youngest cover photographer in British Vogue's history). While she decided to write her own musing for her most recent American Vogue cover, Bey deigned to be interviewed by editor-in-chief Edward Enninful this time around. The issue won't be out until November 6th, but some excerpts from the chat have made their way online.
Like everyone, Beyoncé has tried to use 2020 to reset her life, and for her, that means slowing things down.
"[I've] absolutely changed [this year]. It would be difficult to experience life in a pandemic and the current social unrest and not be changed," she told Enninful. "I have learnt that my voice is clearer when I am still. I truly cherish this time with my family, and my new goal is to slow down and shed stressful things from my life."
Indeed, Beyoncé points out that she's been working basically non-stop since she was a teenager, and now that she's a mother of three, she's realized it might be time to find a better work-life balance.
"I came into the music industry at 15 years old and grew up with the world watching, and I have put out projects non-stop. I released Lemonade during the Formation World Tour, gave birth to twins, performed at Coachella, directed Homecoming, went on another world tour with Jay, then Black Is King, all back to back," she said. "It's been heavy and hectic. I've spent a lot of time focusing on building my legacy and representing my culture the best way I know how. Now, I've decided to give myself permission to focus on my joy."
This shouldn't be total cause for alarm for the Bey-hive. A Beyoncé at professional half-productivity may still end up being quite productive by normal standards. The entertainer doesn't have any previously announced projects in the works (for example, there's no word on whether she'll be involved in Barry Jenkins' follow-up film to The Lion King), but she does tend to make moves in silence. There's just no telling when she'll next jump on a remix—or even release an album.