Beyoncé and Elton John Are Collaborating on a Song for The Lion King
The road to awards season starts here.
---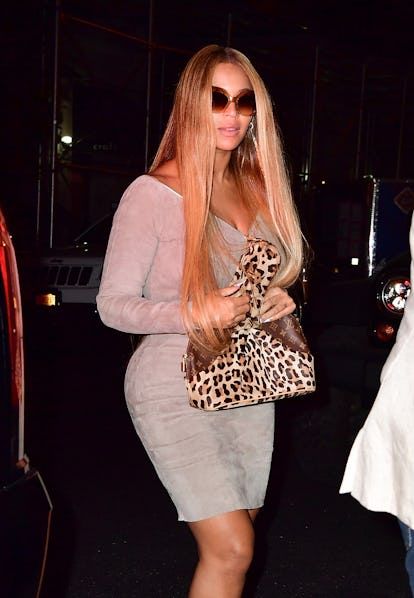 James Devaney/GC Images
Beyoncé and Elton John share many things—otherworldly vocals, a gift for ballads and larger than life performances—but one thing they don't have together is a joint song. Soon, however, that looks to change because the legendary songwriter has just confirmed that the pair have been talking about collaborating. The vocal powerhouses are working on a duet for the upcoming live-action remake of The Lion King.
"They need to have a new end credits song," Elton John told The Sun. "There's going to be four of our songs in the film, from the original: 'Can You Feel The Love Tonight?', 'Hakuna Matata,' 'I Just Can't Wait To Be King,' and 'Circle of Life.' And then there will be an end, closing song, and we've been speaking to Beyonce's people and hopefully Tim [Rice] and I and her can cook up something." John also volunteered, "It will be great to work with her."
The possibility of an Elton John and Beyoncé collaboration first surfaced last fall when a source revealed to New York Daily News that the two parties were in conversation about doing something together for the Jon Favreau-directed film, in which the pop queen will play the lioness Nala. "The songs will be thread into the storyline," the source said. "It is unthinkable when you have Beyoncé involved not to have her sing some of those iconic hits—and that means huge sales to a new generation. The deal is a huge one and will earn [Elton John] millions at many stages. Obviously he will get a one off licensing deal followed by a cut in royalties from all aspects of the work."
John, most notably, wrote many of the original animated film's songs along with Tim Rice, including those he mentioned, "Can You Feel The Love Tonight?", "Hakuna Matata," "I Just Can't Wait To Be King," and "Circle of Life." He's also revisited them in recent months, performing "Circle of Life" in New York in honor of the 20th anniversary of the theatrical interpretation of The Lion King last November. This time, however, the song will take on a new meaning as two music legends from different eras come full circle. Considering the players involved, it might not be too early to call Oscar nominations for the two parties. The road to awards season starts right here.